COVID-19 Update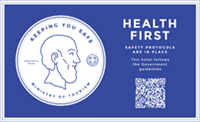 Safety first, welfare always!!!
As we are ready to welcome you back, you can have peace of mind knowing we are taking precautionary measures in an effort to maintain a safe environment for our guests, customers and colleagues.
Specifically, here are some enhanced cleanliness and wellbeing measures in compliance with the NPHO Regulation (Greek National Public Health Organization).
All our staff members are trained on practices for cleaning and disinfecting identified spots and we provide each staff member with personal protective equipment (masks, gloves)
For public health protection, we must keep an updated record of staff members and all guests staying at the hotel – name, nationality, date of arrival and departure, contact details (address, telephone, e-mail), so that communication is possible if a coronavirus case is identified at a later time.
Medical kit is available for the occurrence of an incident.
Non-hotel guests are prohibited from entering hotel rooms
Reception desk
Staff members will follow the necessary hygiene measures, keep the appropriate distance and avoid handshakes.
Online check-in is available. Kindly provide us with arrival time in order to arrange a safe check-in procedure.
Our check out will be at 11am and check in at 3pm, so that rooms can be thoroughly cleaned and disinfected and aired out through natural ventilation.
All keys will be disinfected.
During your stay you will be able to provide you any concierge services or information at the terrace of your suite or by the phone.
We will also contact you prior to your arrival to provide information for concierge services in case you wish to proceed with any relevant arrangements in advance.
Breakfast will be served at the privacy of your terrace from 08.00 till 10.30.
Credit or debit cards are recommended for hotel payment.
We are able to provide useful information to health care providers regarding the locations of public and private hospitals, Covid-19 reference hospitals and pharmacies in the area
Thirea Suites & Studios has a contract with the doctor, Mr George Zervas. Contact details: tel. +30 2286072209, mobile +30 6982490009, e-mail g.zervas@hotmai.com, address Oia, Santorini.
Cleaning, disinfection, housekeeping
We are following enhanced disinfection and deep cleaning practices in accordance to EODY instructions.
Meticulous cleaning and very good room ventilation will take place between stays of our guests.
During your stay cleanliness of your suite and linen refreshing will be provided upon your request from 08.00 till 14.00.
TV and air conditioner controls will have disposable covers.
All surfaces will be cleaned with a steam appliance. The doors and windows of all rooms should be opened daily for natural ventilation.
Antiseptic gels will be available in your room and all common areas.
Air conditioning and space ventilation
According to the Health Ministry's guidance on "Taking measures to ensure public health from viral and other infections during the use of air conditioning units", special attention should be shown on allowing natural ventilation in rooms and other areas when air-condition is working. So please leave window or doos opened when you are turning on the AC.
We look forward to welcoming you soon and we remain at your disposal for any further clarifications you may require,
Thirea Suites & Studios Team