Scenic Santorini Blue Domes – The 7 Must-Visit Churches and Monasteries
Jul 31st, 2020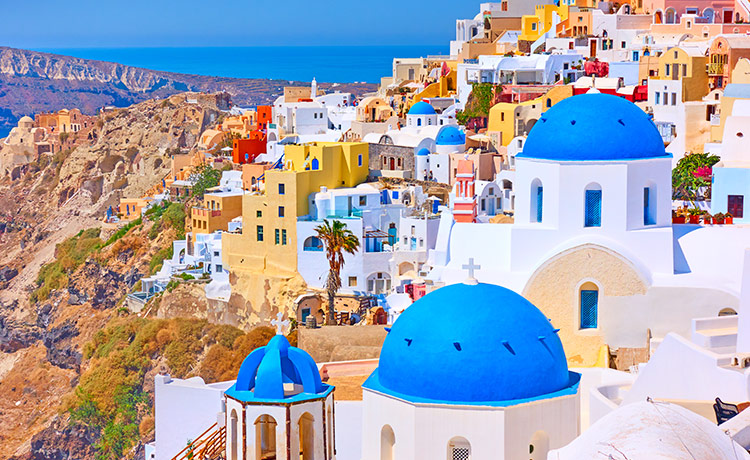 Without a hint of exaggeration, Santorini is a Cycladic pearl adorning the Aegean Sea. The unique volcanic landscape, the rugged lava cliffs, the black sand beaches, the famous caldera, the awe-inspiring Cycladic sunsets, the charming Cycladic architecture, and the most-photographed attraction of all Mediterranean islands, the Santorini Blue Domes, create the foundation for dreamy vacations.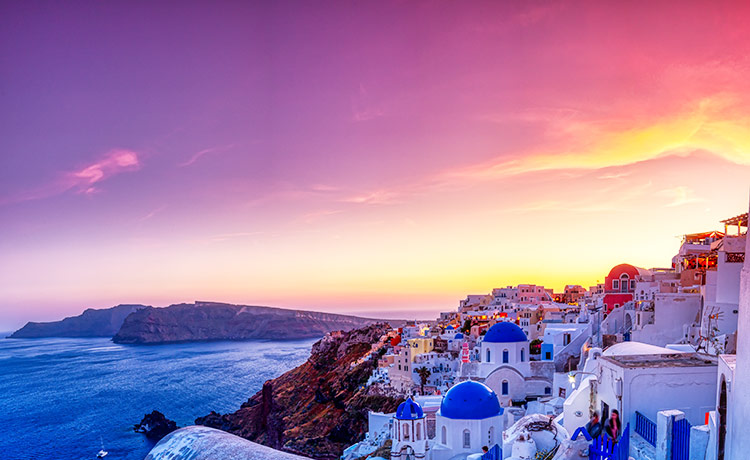 With hundreds of chapels, churches, and monasteries spread throughout such a small island, some featuring whitewashed walls and distinguishing blue domes, it is no wonder that visitors find Sanorini so attractive. In fact, there are tens of churches built with the distinguishing Santorini Blue Domes. Here are seven you definitely need to include in your must-visit list:
1. Agioi Theodoroi Church (Saints Theodore Church)
Photos of this particular church have been traveling around the world for decades. In fact, chances are pictures of this church inspired numerous people to visit Santorini. The charming white chapel sitting high above the sea is roofed with a blue dome and accompanied by a sugary three-bell belfry. The Santorini Blue Domes at Agioi Theodoroi is, without a doubt, a quintessential image of Greece. Notes:
If it happens to be open to the public when you visit it, do check out the old icon on the chancel screen.
Where to find it? In the Firostefani village, on the Santorini caldera rim.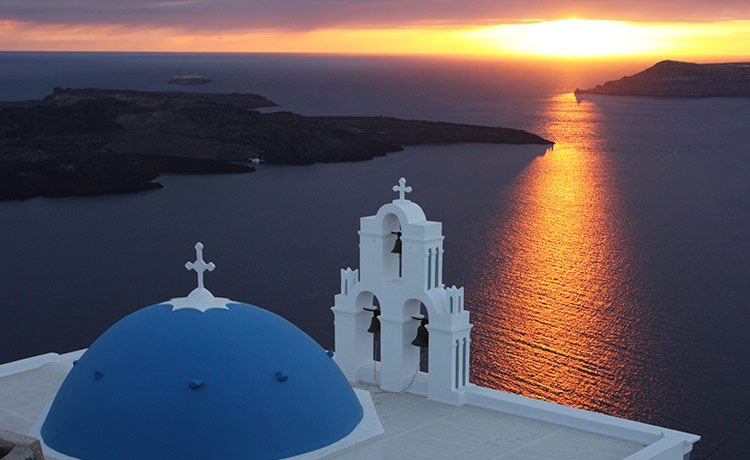 2. Panagia Platsani (Virgin Mary Platsani)
A holy church in Oia Santorini, dedicated to the Virgin Mary (the Akathist Hymn of the Virgin Mary). Panagia Platsani was originally built inside the Oia castle (the very edge of it, actually). Due to a destructive 1956 earthquake, the church had to be rebuilt to the center of Oia village. That being said, the beautiful chapel is one of the most visited Santorini Blue Domes not only for the magnificence of its Cycladic architecture but also for the staggering views you can get from up there. Come either around sunset or just before sunrise and expect to be taken away from the divine spectacle.
3. Agios Spyridonas & Anastaseos Churches (the churches of Saint Spiridonas & The Resurrection of Christ)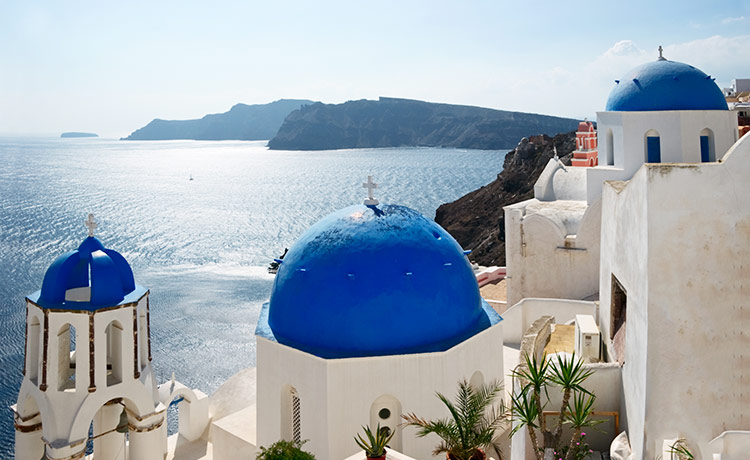 These are two churches occupying the same space. Found at the edge of the cliffs in Oia village, they are among the most sought-after Santorini Blue Domes, primarily for the idyllic views of the shimmering Aegean Sea and the clear blue Mediterranean skies. Note: Don't be surprised if you see lots of crowds with cameras struggling to get the best angle for a shot of the heart-stopping Santorini sunset! If you are a photography enthusiast too, make sure you come in early to get a good spot!
4. Panagia Theoskepasti (Virgin Mary Under the Protection of God)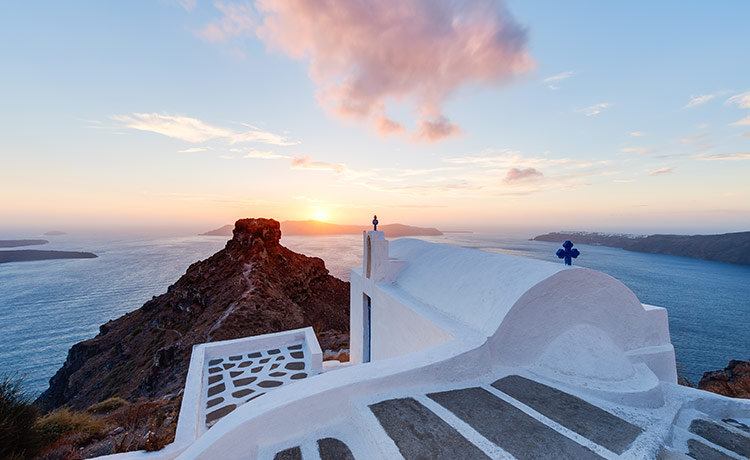 Those loving outdoor activities like hiking will most likely appreciate a visit to Panagia Theoskepasti church – an impressive Santorini Blue Domes example. It is situated in the Imerovigli area and is dedicated to the Virgin Mary. It is a long-standing island symbol that welcomes visitors to gorgeous natural raw beauties and alluring volcanic scenery.
5. Agios Nikolaos Monastery (Saint Nicholas Monastery)
Comfortably tucked in the area between the villages of Imerovigli and Firostefani, just a few minutes' drive from Thirea Suites – one of the most exclusive Oia Santorini hotels - Agios Nikolaos monastery was founded in 1651. The female monastery was moved in 1815, though, and found its forever home at its current location. Today, it also houses a museum with rare ecclesiastical icons dating to the Byzantine times, as well as a Folklore Museum worth visiting.
6. Panagia Episkopi Church (aka Church of Episkopi Thiras)
The particular Santorini Blue Domes church is a fine specimen of traditional sacred architecture that has managed to preserve its glory throughout time. You will find it in the picturesque Mesa Gonia village, and has also provided shelter to well-preserved decorative sculptures, paintings, frescoes, and ancient Byzantine icons dating back to the 11th century.
7. Agios Gerasimos Church (Saint Gerasimos Church)
Last but not least, Agios Gerasimos Church was erected in 1807, and dazzles with its sharp colour contract that makes a fab scenery for a photo shooting. The parish church is built in Firostefani and offers a spectacular caldera view. The church itself sits at the edge of a cliff overlooking the archipelago, providing romantic panoramas and opportunities to share unforgettable moments with your partner.
Luckily, your favourite Santorini honeymoon suite or chic room at Thirea Suites is just a short drive away from Firostefani so you can easily access such scenic locations. And, this concludes the list of the top 7 blue-domed churches worth visiting in Santorini! If you would like more options or even a guided tour to the most popular ones, do not hesitate to seek the assistance of the friendly receptionist at Thirea Suites!
Where to stay in Santorini
Fortunately, there are a plethora of accommodation options in Santorini, from budget hotels and bed and breakfasts to luxury resorts and exclusive cave houses. As for those used to a VIP lifestyle or wanting to experience ultimate pampering, Thirea Suites is a perfect match as it is among the very few hotels in Oia Santorini that combine elegance, world-class amenities, a wide range of facilities, excellent services, and utmost privacy amidst a popular region that never rests!