Experience Unforgettable Love: Plan Your Dream Wedding Proposal in Santorini at Thirea Suites
Aug 16th, 2023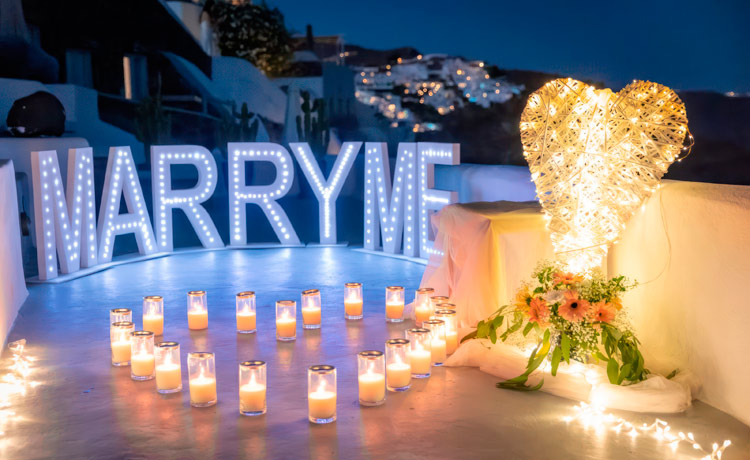 Envision the tranquil waters of the Aegean Sea, the awe-inspiring vistas of the Caldera, and the towering Santorini Volcano, all creating an ambiance of profound love. Santorini, the picturesque Greek island, holds a revered place as the epitome of romantic getaways. Among the Oia hotels in Santorini, Thirea Suites shines brightly as the perfect locale for an enchanting proposal in Santorini.
Imagine a sunny Santorini day unfolding as you and your partner revel in the allure of your exclusive Santorini honeymoon suite at Thirea Suites. A day that holds a heart-warming surprise - your dream proposal in Santorini.
Unbeknownst to your partner, a magical transformation takes place, turning your private terrace into a dreamy setting for the perfect proposal. It sparkles with the soft glow of candles, fragrant blooms, scattered rose petals, bright hearts, and intimate lights, all centered around a beautiful "Marry Me" sign.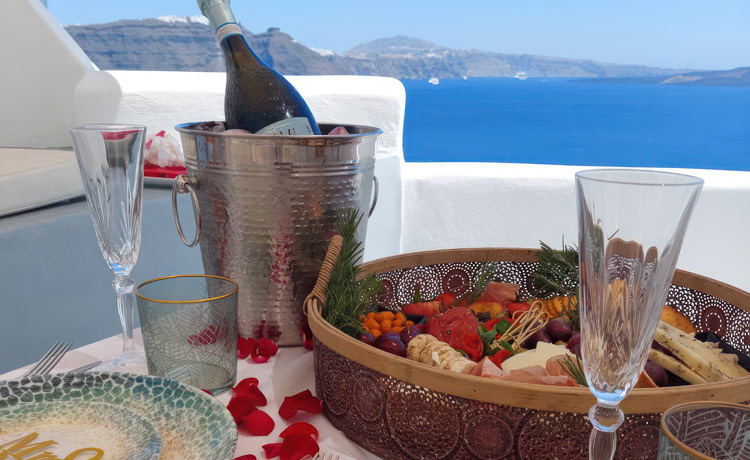 Before the big moment, our thoughtful team has arranged a delightful day of pampering for your significant other. A manicure and pedicure session to enhance their natural beauty, followed by a hairstyle that suits the romantic occasion perfectly. The best part? Your other half will enjoy this day of indulgence without suspecting the surprise that awaits.
As the sun dips into the horizon, it's time to pop the question. As they turn to see their favorite bouquet and the enchanting setting, their expression of surprise and joy is one for the ages. With their fresh manicure accentuating the promise ring, and their perfectly styled hair capturing the essence of the moment, the photographs taken against the backdrop of the Santorini sunset will be nothing short of magnificent.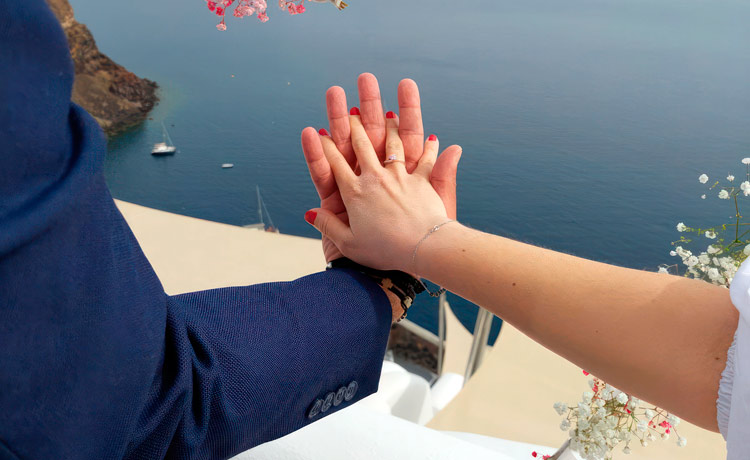 Don't just take our word for it. Here's what two couples who experienced a proposal in Santorini at Thirea Suites had to say:
Andrew and Mia from Vancouver recounted their experience with pure joy,
"Looking back, we wouldn't change a thing. Thirea Suites delivered a meticulously planned day that culminated in the most unforgettable proposal. The pampering, the unexpected surprises, and the breathtaking proposal setting exceeded our expectations. To be honest, we still get butterflies thinking about that magical moment!"
On the other hand, Mark and Sarah from New York City could not stop praising their experience.
"We've always dreamed of an exquisite proposal in Santorini, and Thirea Suites made it a reality. From the meticulous grooming sessions to the beautiful proposal setup on our private terrace, we were in awe of the attention to detail. Every time we look at Sarah's ring photos, her radiant smile, and the stunning Santorini backdrop, we're instantly transported back to that perfect day. Our proposal in Santorini has set the bar high for all our friends!"
---
Our commitment at Thirea Suites is to ensure your proposal in Santorini exceeds your wildest dreams. Our experienced partners stand ready to cater to every unique request, making your moment truly yours.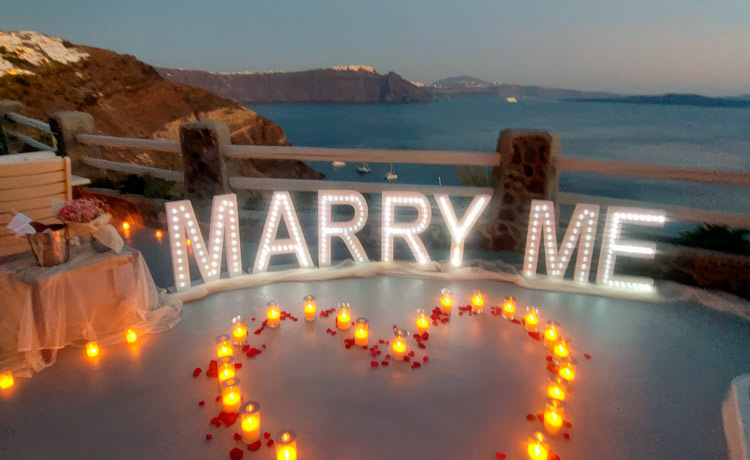 So, if you've been dreaming of a fairytale proposal in Santorini, Thirea Suites is ready to bring it to life. Experience romance like never before and begin your forever in the captivating beauty of Santorini. After all, love isn't just about being together. It's about crafting beautiful moments that last a lifetime, and there's no better place to start this journey than in the romantic haven of Santorini at Thirea Suites!
Santorini isn't just an ideal place for a proposal; it's destined to be the place for your unforgettable proposal.