The Incredible Magnetism of the Santorini Sunset – Where to Get the Best Views
Apr 30th, 2020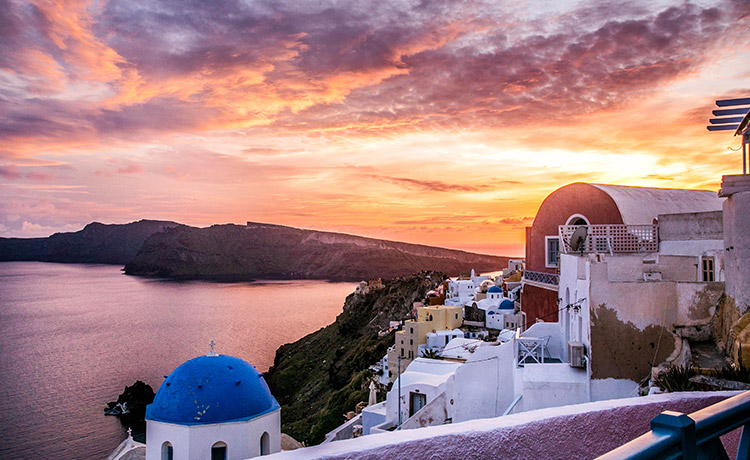 Besides a hugely popular honeymoon destination, Santorini draws millions of visitors every year for its unique landscape and, of course, the gorgeous sunsets. In fact, chances are you will find photographs of a Santorini sunset featured in nearly all travel blogs and sites across the globe. Undeniably, the Mediterranean island with the remarkable morphology has a special appeal to those stepping foot on its volcanic land!
Whether you are a photography aficionado, a nature lover, a newlywed, or simply after places that offer one-of-a-kind experiences, Santorini is just right. Here are some ideas to help fill your heart with overwhelming pleasure and fulfilment from marvelous Santorini sunset vistas and not only!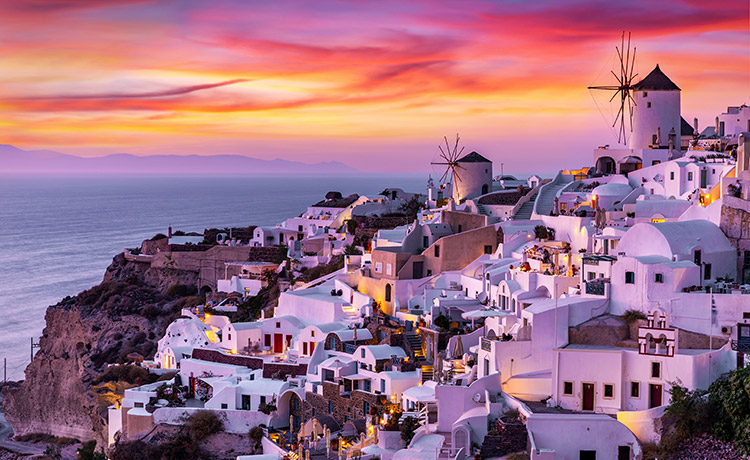 Best Locations for Pristine Sunsets - Oia
Although the island provides many exceptional opportunities to enjoy mind-blowing Santorini sunset views, some areas indeed stand out. One of the most favoured ones is Oia. The cascade of whitewashed houses, dotted with blue-domed chapels, and charming windmills, actually create a fantastic backdrop for a selfie!
You can watch the buildings being painted in hues of orange, yellow, and pink as the sun goes down from Oia Castle. You will be able to see everything mentioned above, plus a nice view of Ammoudi Bay, perched on the Caldera edge while pampering yourself with glorious Santorini sunset panoramas. Just ensure you get there early to reserve a spot. You will find the particular location where all visitors prefer for sunset views labeled on Google Maps as Lookout Oia Panoramic View.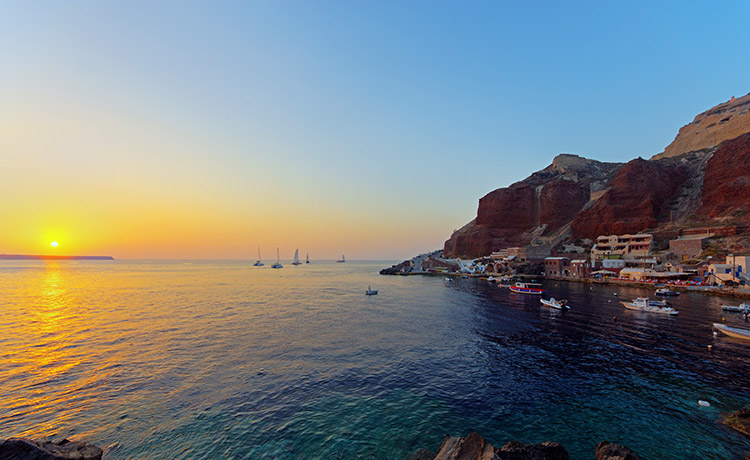 Another Oia Santorini region to watch the sun vanishing behind the Aegean Sea is the Blue Domes. The iconic landmark gathers significantly less crowds than the Castle, which gives you a bit more freedom to savour the sheer beauty and romance tied to the gorgeous vistas.
Tip: You may choose to stand right next to the Santorini Blue Domes at Oia. That way, you will be able to shoot both the church with the three distinctive colourful domes and the church bells.
Now, if you want even fewer people around you while taking a Santorini sunset picture, there are plenty of restaurants in Oia to fit your bill. What a lovely way to enjoy a cocktail or delicious meal from a rooftop terrace that offers pristine panoramas over the Oia village! Although the views from there as not as stunning as from the Castle or the Blue Domes, they still make a lovely setting to kiss the day goodbye!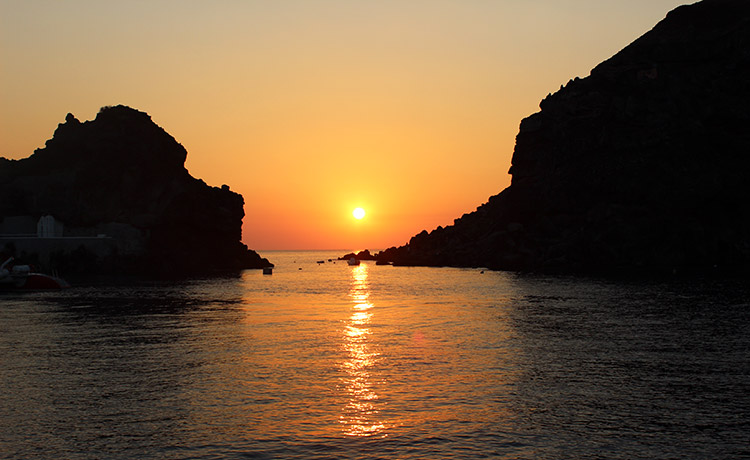 Of course, the most private experiences can also come from your room, suite, or apartment! Thirea Suits is among the very few Oia Santorini hotels that provide spectacular views of the shimmering Aegean Sea and the cloudless Mediterranean sky and a wide range of comforts and amenities. And, all that, offered in utmost privacy and exclusivity, which is extremely rare for a bustling island like Santorini.
Other notable places/ways to appreciate ravishing sunsets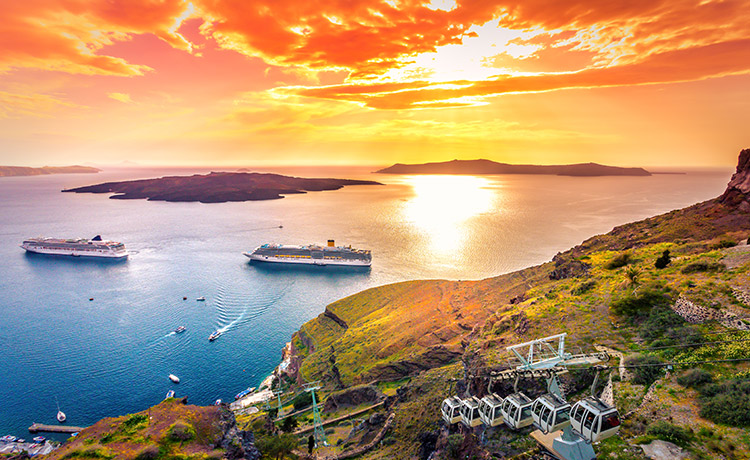 Some of the alternative options you could explore to relish magnificent Santorini sunset views include Fira and Imerovigli, which also gather a lot of visitors.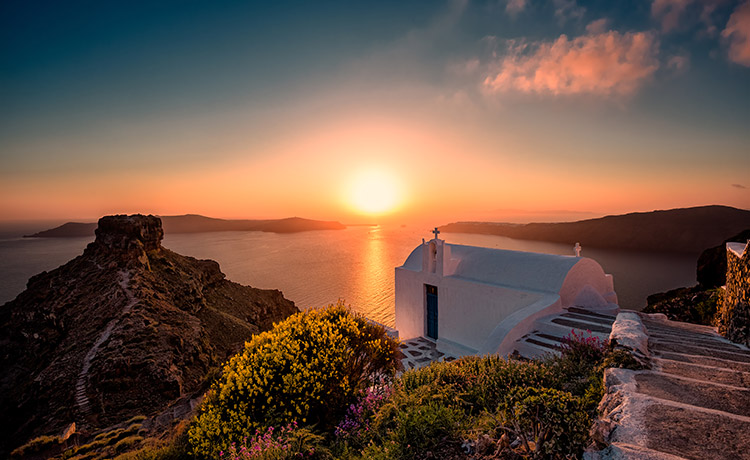 A great spot at Imerovigli is Skaros Rock or the ruins of Skaros Castle. Or you could try out The Akrotiri Lighthouse and/or Pyrgos.
That being said, a Santorini sunset cruise should not be crossed off your list just yet. The same applies to cafes and wineries across the island. Truth be told, walking the streets of Santorini villages will allow you to discover charming little spots of unparalleled beauty (and panoramas)!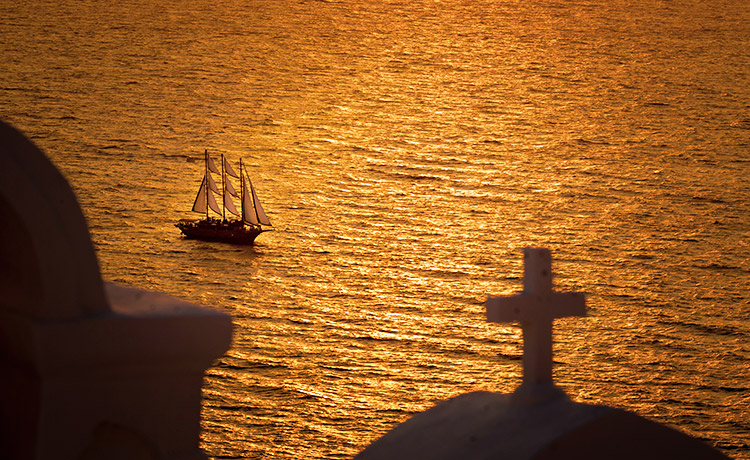 The Santorini Caldera is another popular option to watch glorious vistas of the descending sun. Getting there requires some hiking, though. Nevertheless, expect to be fully compensated with the treat you will receive from up there!
Note: You could combine a visit to the Caldera with a mud bath at the Hot Springs. In this case, ensure you book a Santorini Hot Spring Tour early on!
Santorini accommodation …with all-round indulgence
A handful of Santorini apartments and hotels offer VIP accommodation options. In fact, Thirea Suites is the only hotel whose luxury suites overlook the Caldera, offering heart-stopping views. Combining genuine hospitality and royal-like services, we enable you to enjoy magical moments from the comfort of your elegant room.
No wonder Thirea Suites is a top-ratted Santorini honeymoon option among newlyweds as well. The privileged location, charming Cycladic architecture, enticing minimalist style, exclusive privacy, tranquility, and romance infused, indeed, contribute to memorable holidays.