Santorini Bike Tours for Couples, Families & Expert Cyclists
Jul 28th, 2021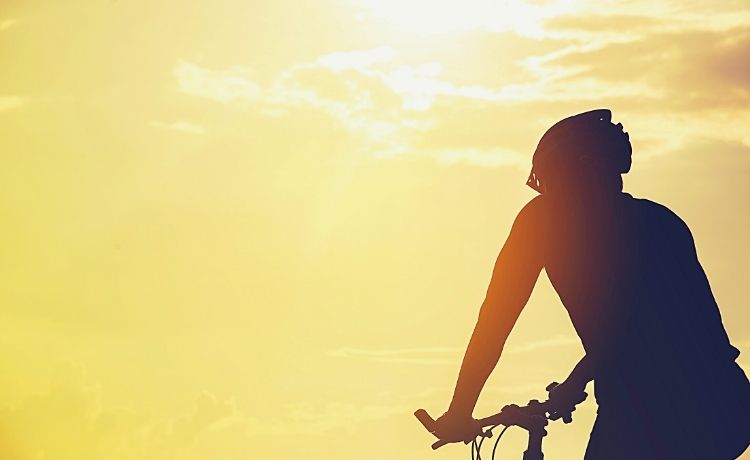 Santorini is fabled for a lot of things. The idyllic sunsets, the profoundly volcanic terrain, the unique black and red-sand beaches, the luxurious lifestyle, the vibrant night scene, and many more. It seems that Santorini is also a superb destination for mountain (and not only) biking.
Whether you are an experienced cyclist ready to climb to the highest mountaintops for heart-stopping Caldera and sea views or an amateur just wanting to explore the Santorini landscapes via accessible routes, there are plenty of Santorini bike tours to please you.
Of course, you don't need to be an adventure or adrenaline seeker to enjoy biking. Cycling is an excellent activity to keep in shape and many travelers' favourite pastime for the unbeatable sense of freedom it offers. Truth be told, though, even if you are not too fond of pedaling-related activities, a Santorini sunset tour with a bicycle has an entirely different taste than anything you might have tried so far.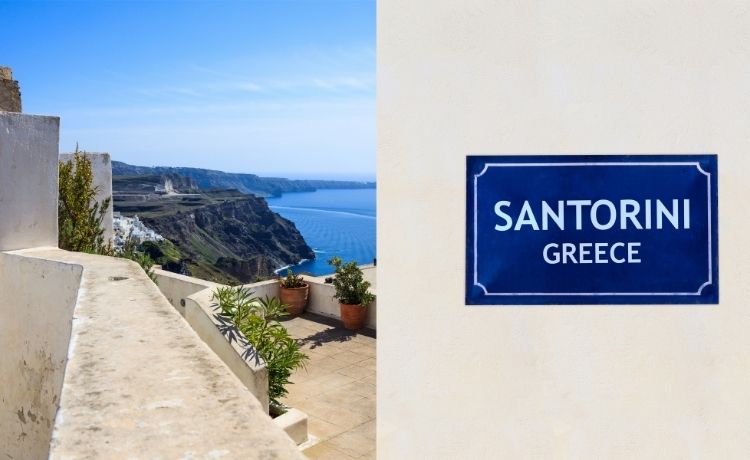 Biking tours for couples & families
A sunset-gazing cycling endeavour is also perfect for couples enjoying their honeymoon in Santorini that want to leave the pampering of their Santorini honeymoon suite at Thirea Suites and dive into a different escapade. In this case, a beach biking tour is a great option that will enable them to relax away from the bustling villages and cities.
One of the most interesting and incredibly rewarding Santorini bike tours for couples can start from Perivolos Beach, go past the ancient city of Thira (aka Fira or Thera), through the scenic village of Megalochori with the three wineries and verdant vineyard-laid lands, and finally cycle the winding alleys of Emporio village, before going back to the picturesque Perivolos Beach.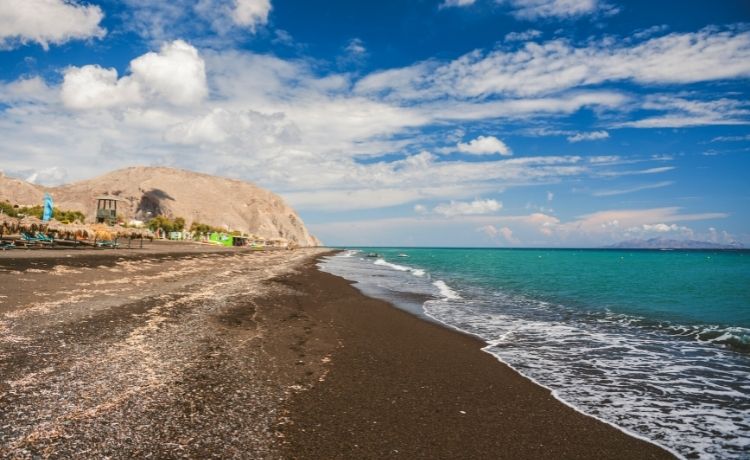 A second option could be pedaling from the tranquil village of Vothonas and the beautiful valley it's tucked into, heading to the alluring Kamari resort with the black-sand beach and the rugged volcanic terrain, passing through Oia Santorini, and its mind-blowing sunsets, entering the impressive Fira, and finishing at the charming Mesaria village, from where you can soak up captivating views of the Caldera in Santorini.
Needless to say, the routes of both these Santorini bike tours are also easily handled by families with children.
Bike routes for experienced cyclists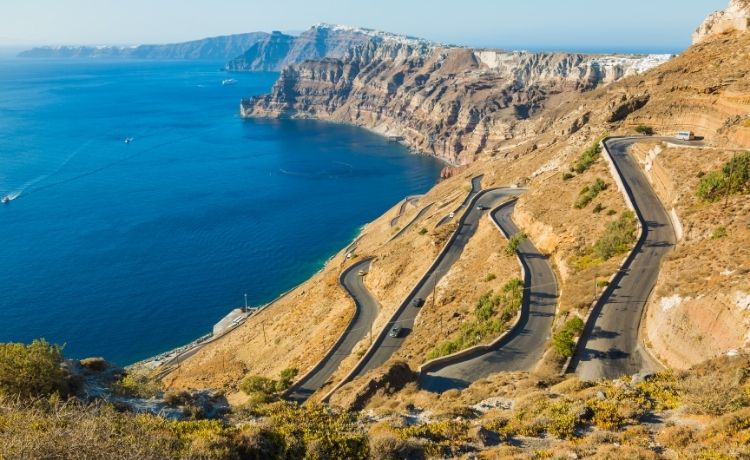 Avid riders prefer more complex cycling adventures. However, given Santorini's rocky landscape, it's paramount to be certain that you can stand up on your pedals and handle your bike well amidst large crowds, among others, before setting off from your Oia Hotel in Santorini – Thirea Suites.
At this point, allow us to say that you can choose one of the many guided Santorini tours or even a self-guided tour so you can make your own itinerary. Just don't forget to get your safety gear (if opting for a self-guided bike tour – otherwise, it'll be provided to you by the bike tour company) and your camera as you will be passing by (or through) quaint traditional villages trapped in time, with whitewashed houses, blue-domed churches, flower-filled patios, volcanic sand shores, and friendly locals enjoying their Greek coffee at a local kafeneio!
So, for experienced cyclists, we suggest pedaling to the famous Caldera for hypnotic views of the volcano and the glistering Aegean Sea. Do take a moment to notice the peculiar structures around you – the cliff is home to impressive cave houses and chapels built with volcanic ash. From there, you could up your game with a tour to the delightful Megalochori village, where you can pamper yourself with award-winning local wine and other local products. After that, most Santorini bike tours overpass Vlychada Beach with the imposing wind-carved cliffs and end at Perivolos Beach. However, you could include a stop at Emporio village (or pass under its windmills if you don't want to get inside the village) and the old city of Castelli before getting back on the road to Megalochori. This will give you the chance for a demanding around-the-island bike tour that will certainly test your cycling skills.
Alternative Cycling Tours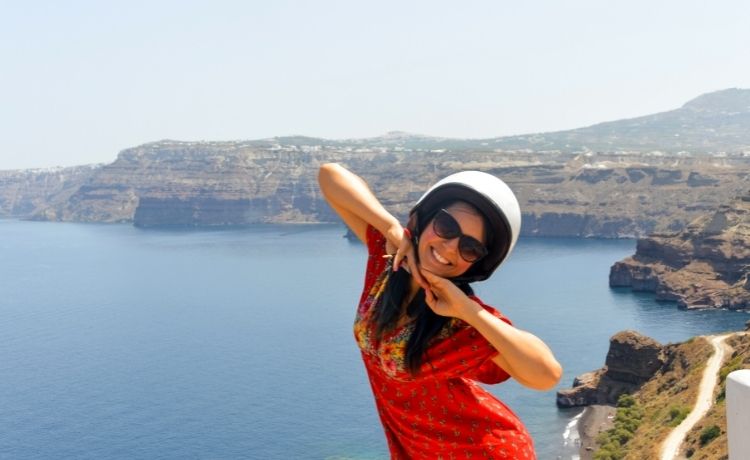 For enhanced experiences, please feel free to ask your concierge at Thirea Suites – the best-rated of Santorini Caldera hotels to help arrange private bike tours to meet your specific requirements. Some of the currently available options for bike explorations that go beyond what's usually offered include:
• Gastronomy & Cycling Tours – Such Santorini bike tours make several stops at traditional Santorini villages, where you can enjoy the local attractions while tasting mouth-watering local dishes (i.e., tomato fritters or Stuffed vine leaves) and freshly-squeezed juices. They may even offer a wine-tasting experience with stops at some of the oldest Santorini wineries and take you back via a different road to savour even more magnetic views of Santorini.
• Sunset Bike Tours – Specifically designed to satisfy those wishing to navigate the countryside just before sunset, these Santorini bike tours introduce you to charming villages, hillside locations overlooking the Aegean Sea, wine roads, windmills, old monasteries, and more. And, all that, as the sun gracefully slides behind the horizon, painting Mother Earth with shades of orange, pink, yellow, and gold.
• Thirassia e-bike tours – If relaxing on a private beach at Thirassia island after crossing Potamos village and the Thirassia island capital, Manolas village, with ease, then an e-bike tour is a perfect fit for you. As you ride your e-bike past sites like the Kimisis monastery and the untouched Kera village, you will probably feel as if you have stepped back in time at Thirassia. Expect to be surrounded by vivid colours, wild nature, undeveloped lands, and panoramic vistas of the island. And, if you feel tempted by the smell of freshly baked bread, then there must be a traditional bakery around making bread on a wooden oven!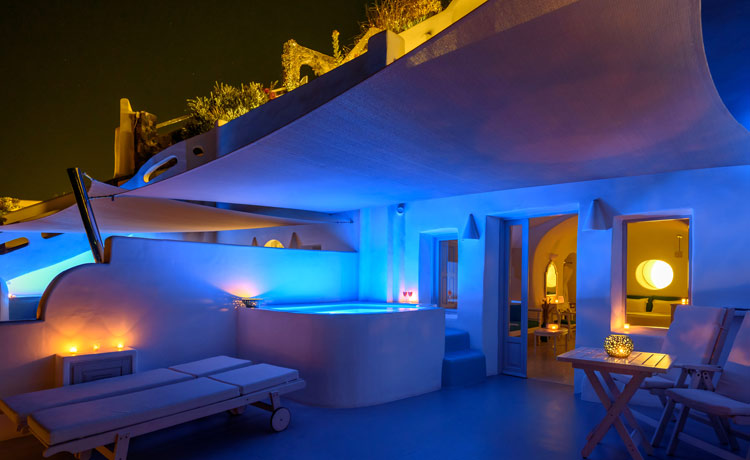 Note: All the above tours can also be made with an electric bike. The end of every bike tour will find you in a luxury minivan, transferring you back to your elegant hotel. If you would prefer this option and need assistance to personalize the entire experience, kindly communicate your needs with Thirea Suites. We'll bend over backward to make it happen for you! It's not by accident that we are being referred to as one of the most customer-centered Santorini honeymoon hotels and luxury resorts!