Top 9 Santorini Tours for First-Time Visitors!
May 26th, 2021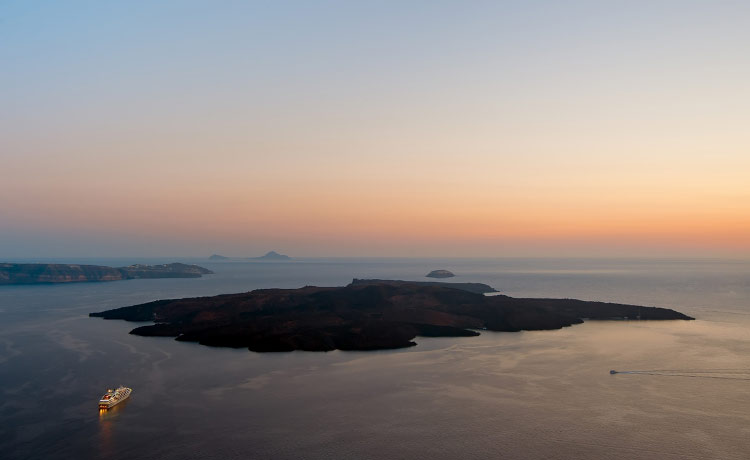 Getting the best out of your Santorini holidays is not as far fetched a dream as you may imagine. In fact, there are multiple ways to get to know the island, including how locals live their lives, the local culture and tastes, and must-visit landmarks. Going on a Santorini tour will help tick all of your boxes. Depending on the aspect of Santorini you want to explore, you can choose a cruise tour, a cooking class, a walking tour, a helicopter ride, or any other. Here are 9 tours you could consider to start your Santorini vacations on the right foot!
1. Visiting the main attraction - the volcano!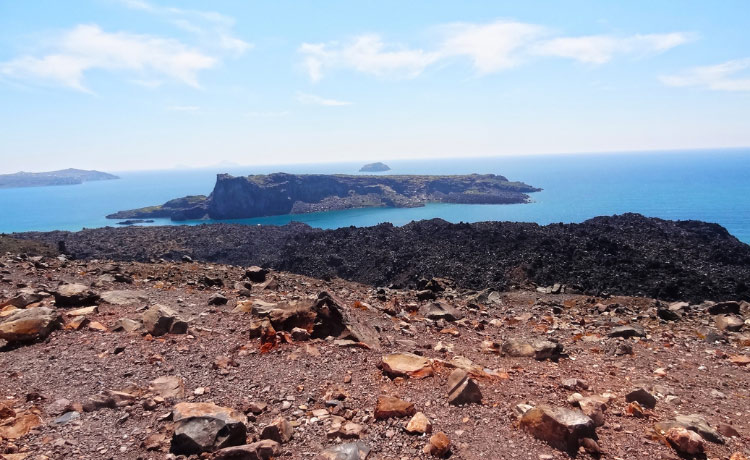 A Santorini volcano tour is among the first things all visitors opt for when stepping foot on the island. Can't blame them. The volcano is the reason for Santorini's existence in its current form. That very same volcano you are about to see in your tour was once so active that it turned the flourishing island into a Greek Pompei. The huge volcanic eruptions that took place many centuries ago have given birth to popular local attractions like the cave houses, black sand beaches, red-pebble shores, and the Hot Springs.
No wonder nearly all Santorini tours have a visit to the volcano in their itinerary. Now, if you wish to blend a volcano tour with other delights, such as a boat tour, you may simply ask for it. Instead of walking toward the caldera, you can get there by boat and see many other sights along the way.
2. Heading to the Hot Springs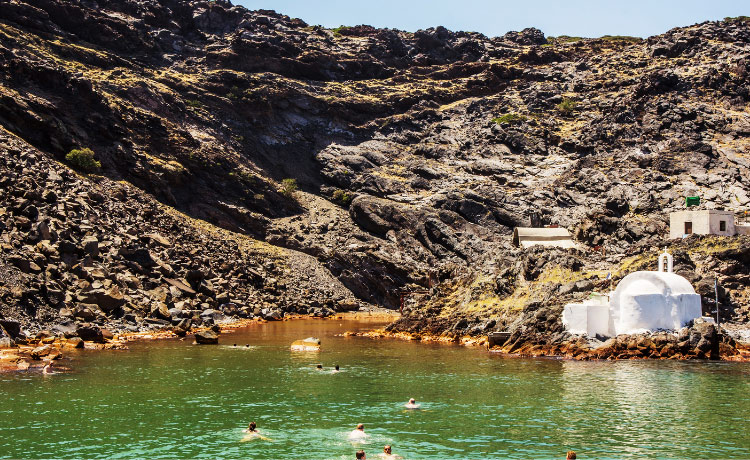 As already mentioned, a Santorini boat tour is a great option to see parts of the island not easily accessible on foot. This includes the Hot Springs that lie in the volcanic islets adjacent to Santorini – Nea Kameni and Palea Kameni. Known for their healing qualities, they are visited by thousands of tourists who submerge in the sulfur-rich waters to treat arthritis and other health issues.
Tip: Most of the time, Santorini tours to the Hot Springs include stops to beautiful shores, like Agios Nikolaos Bay, or take you to the active craters of the volcano.
3. Wine tasting internationally renowned wines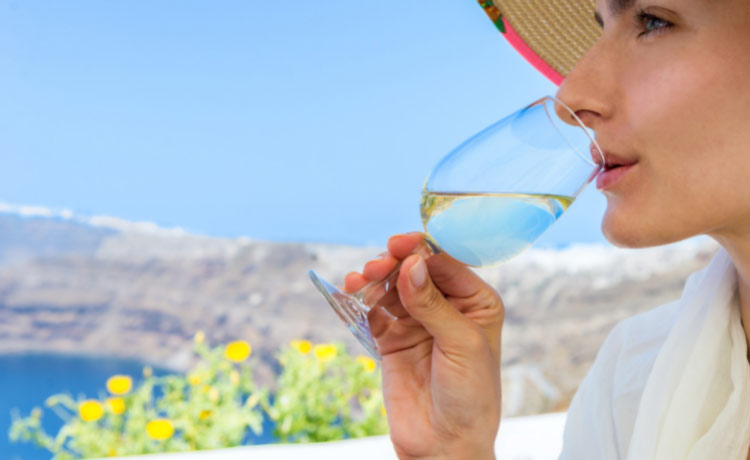 A wine-tasting tour is one of the most requested Santorini tours among wine lovers. Did you know that the wines produced here are among the most delicious and acclaimed worldwide? Indeed, Assyrtiko wine is the flagship of Santorini and is vinified in not only one but three versions. Assyrtiko is a white wine with a cool minerality, high acidity, and exuberant aromas of citrus, lemon, and lemon blossom. Then we have Assyrtiko aged in oak barrels that comes with vanilla, apricot, and nuts aromas. Finally, Vinsanto is a wine produced in the most traditional way, with flavours of plums, ripe figs, coffee, honey, and raisins.
All that aside, a Santorini wine tour is an excellent idea even for people not really into wine-tasting. Actually, many wine tours offer the opportunity to get acquainted with the world of wine. In any case, visiting a local winery is a special adventure to be lived at least once.
4. Cliff Jumping at Amoudi Bay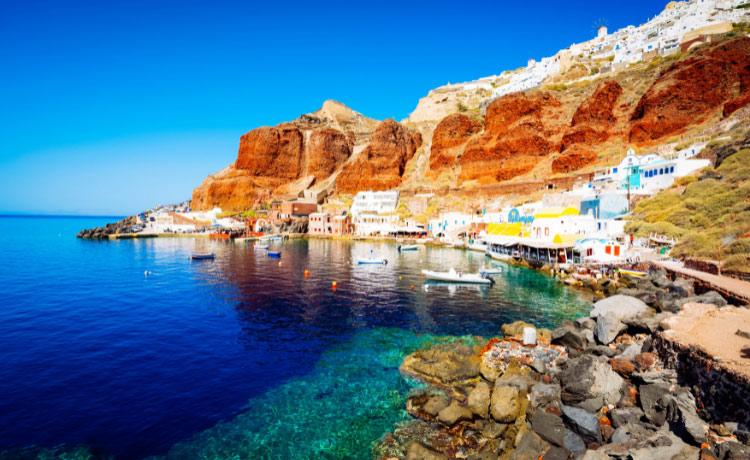 So, perhaps you love the water and adventure, but you are not too fond of activities like scuba diving and snorkeling. In this case, why not try to have some fun at the Amoudi Bay spot? You can climb all the way up the cliff, and either have your jaw dropped by the striking view or take it a step further and, well, jump straight into the crystalline waters of the Mediterranean. Besides a Santorini Caldera tour, this could probably be the most exciting activity in Santorini!
Note: The place is quite isolated and calls for a bit of stair climbing. To get there, go to Oia Santorini, and look for the big set of stairs that lead to Amoudi Bay. When you get there, walk along the cliff (to the left) until you reach the rocks.
5. Staying in a cave house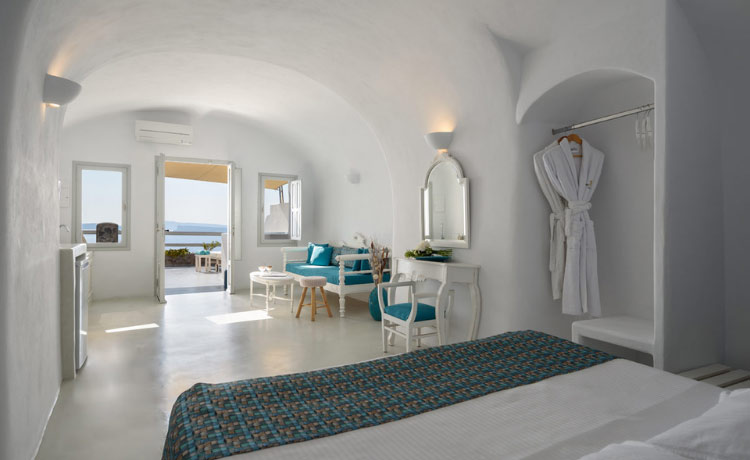 Cave houses have become an iconic type of housing in Santorini after the massive volcanic eruption that reshaped the entire island. You will notice that most Santorini tours include a visit to the Caldera cave houses, which, by the way, are pretty common across the entire island.
Today, many resorts in Santorini provide cave-style rooms of unparalleled luxury and upscale elegance, like Thirea Suites – a highly rated Oia hotel in Santorini. The experience is utterly gratifying as it combines traditional Cyclades architecture (see cubic-shaped constructions, whitewashed walls, and arched doorways) with an incredible range of modern amenities.
So, expect mind-blowing views of the Aegean Sea and the Caldera, total privacy despite being in the very heart of crowded Oia, private terraces, exterior jacuzzis, hydro-massage bathtubs, and more. As far as accommodation is concerned, you may choose the Standard, Superior, Premium, Luxury, or Santorini Honeymoon suite at Thirea Suites or opt for a deluxe studio or lavish apartment.
6. Exploring the island on a quad bike or electric bike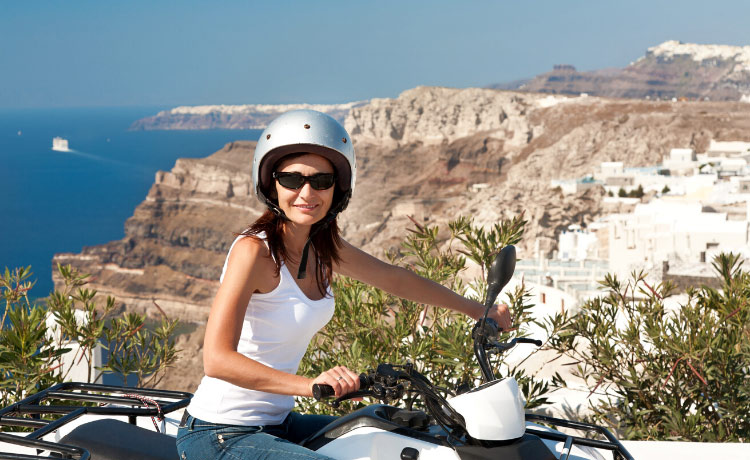 If Santorini tours that involve walking and hiking are not your cup of tea, then you could try an alternative way to get around the island and explore its charms. Cruising down the roads on a moped, electric bike, ATV, or quad bike and feel the wind in your hair can be such a rewarding experience offering more of an adrenaline dose. Plus, you can go to places not accessible by bus or car. Renting a quad bike, electric bike, or moped is quite cheap here, and you will only need to have a standard license (for quad bike rentals).
Tip: If you want to avoid the busy roads and the traffic you may find there, you can head to the black beaches of Perissa and Kamari. Chances are it will be just you and the open road! What a superb way to watch a Santorini sunset from a location not discovered by tourists!
7. Going private and even up in the sky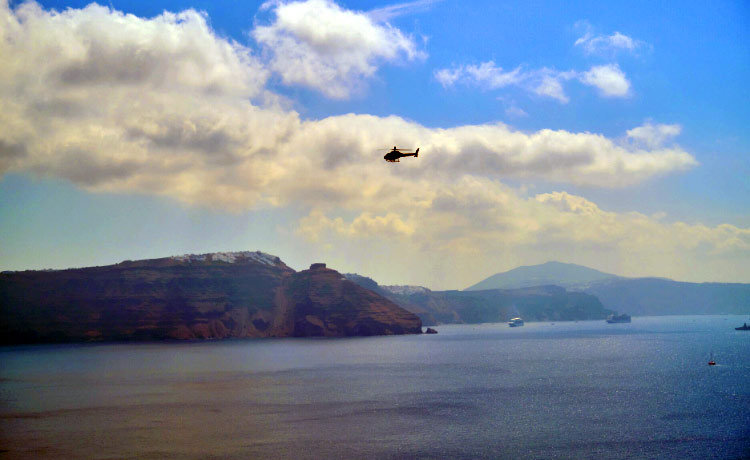 Apart from the typical Santorini tours you can have, there are alternative options to get a taste of the island. Some of them offer an entirely new approach to sightseeing by providing private helicopter tours that can take you across Santorini, enable you to visit remote destinations and secluded shores, and even jump to nearby islands.
8. Sunset sailing, anybody?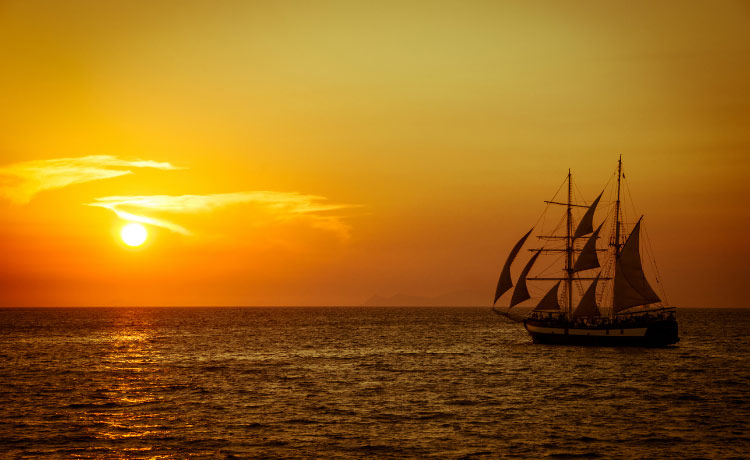 What a rejuvenating endeavour it is to sail the crystal clear waters of the Aegean Sea just before the sun kisses the horizon goodnight! Grab your significant other, your family, your loved ones, or your friends and spoil yourselves with unbelievable views of the sliding sun and the calmness of the Mediterranean. And, if you feel like it, you may even request a BBQ onboard or drinks and meals prepared by the yacht or catamaran staff.
9. Getting an explosion of tastes in your mouth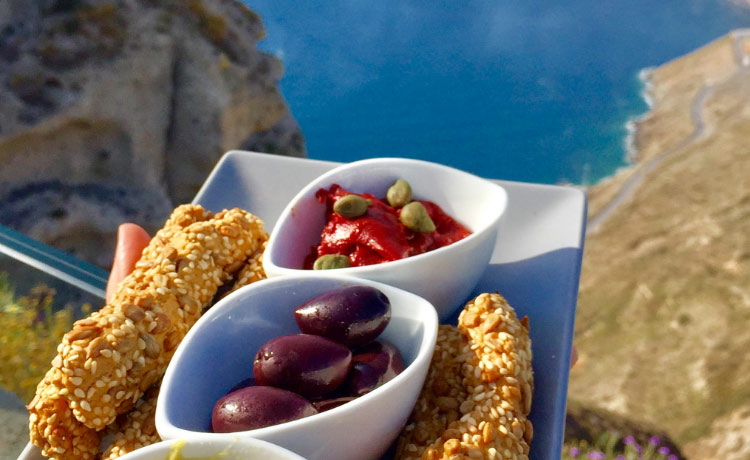 Santorini knows how to pamper its visitors with local goodies and tastes inspired by Mediterranean cuisine. Prepared with extra virgin olive oil and local ingredients, the dishes here are to die for. Don't leave without getting saganaki (fried cheese wrapped in pastry leaf and covered in honey), tomato fritters, roasted lamb, and mashed up fava beans! You can thank us later. The seafood is also great, and the same applies to traditional Greek recipes, such as mousaka. Of course, you may sign up for one of the many Santorini cooking classes and see how these are prepared! A little treat to take back home!
Enjoy your stay!