Must-experience activities in Santorini – 20 Top things to do in Santorini (Part ΙΙ)
Feb 26th, 2021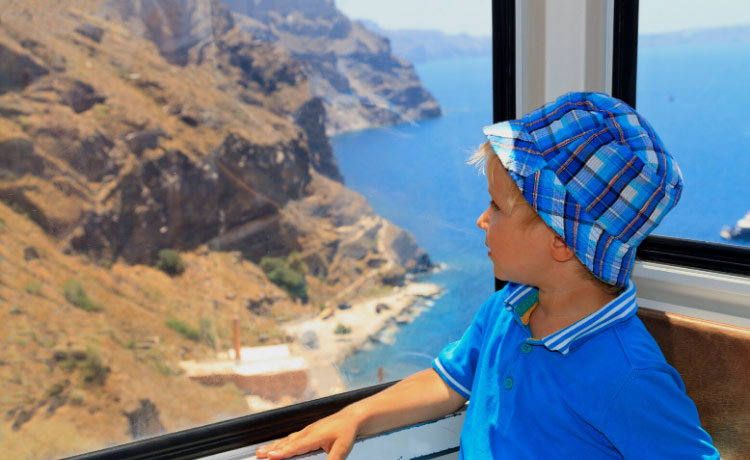 After highlighting the 10 Top Things to do in Santorini in this guide's Part I list, we continue our suggestions for fantastic and dreamy Santorini holidays! You see, Santorini is not only a sight for sore eyes but also one of the most diverse places in the Mediterranean, offering a wide variety of activities to enjoy your stay here.
1. Take a ride with a cable car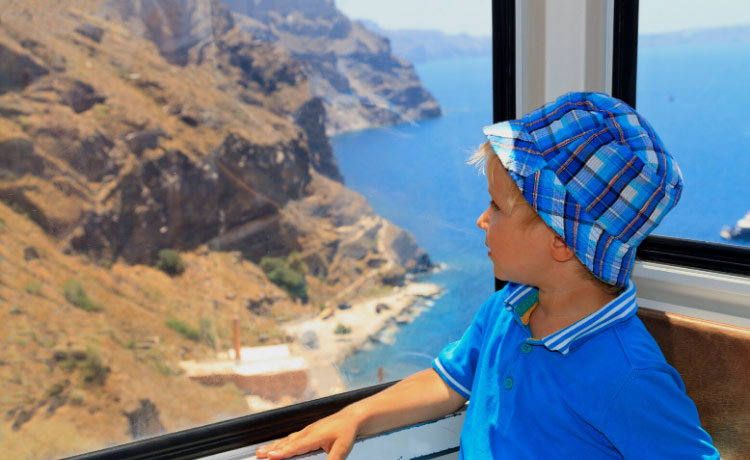 Unless you want to take the long winding stairs that connect Fira with the old port, then riding the cable car is your best shot. Within 3 minutes, you will be able to get from the old port to the island capital while viewing incredible panoramas of the Aegean Sea and the stunning Santorini caldera (and the volcano, of course) from 220 meters high.
2. Sunbath in Perissa Beach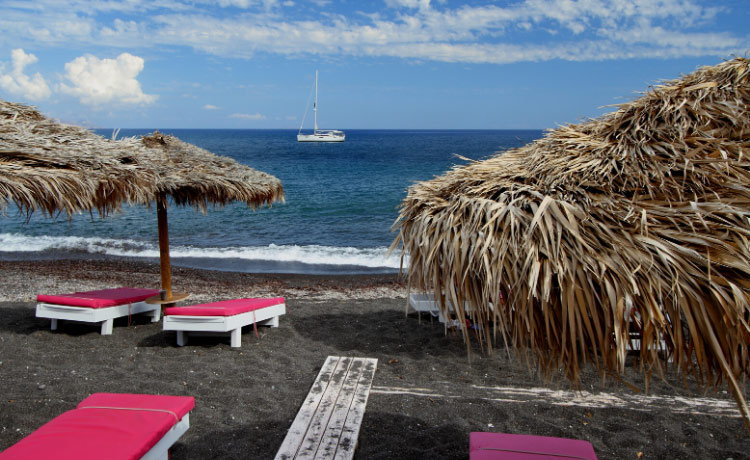 Also known as the Black Beach, Perissa beach is an Oia Santorini attraction worth seeing at least once. It is situated at the bottom of a mountain some 13km from Fira. As expected, the shore features black lava sand and dark blue crystalline waters with a sandy sea bottom. The fully-organised, Blue Flag-awarded beach is the most famous (and longest) shore in Santorini. At the end of this cosmopolitan beach, you will find a great diving spot for avid divers. Or you may enjoy watersports, such as parasailing and windsurfing.
Note: Thirea Suites is among the very few Oia Santorini hotels with private suites so close to Perissa Beach and other local attractions.
3. Try your sea kayaking skills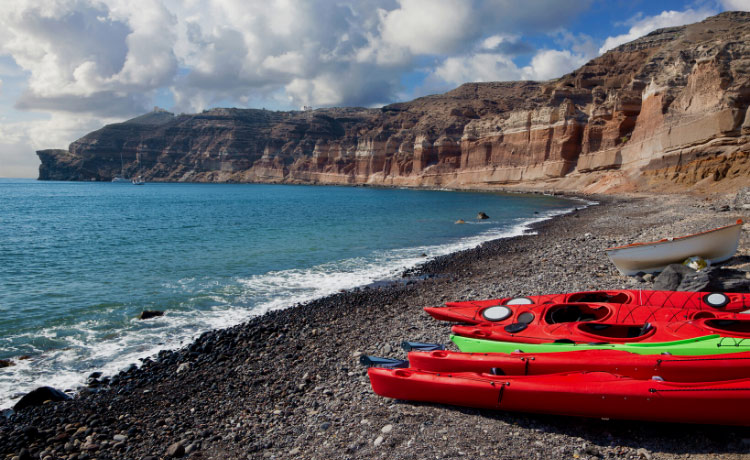 Among the top things to do in Santorini if you love water sports is sea kayaking. Enjoy epic sunsets while laying eyes on incredible rock formations, black/white/red beaches, sea caves, and more, from your kayak. Sit back and relax, listening to the sound of waves or snorkel. And, as you pass by places like Kampia Beach, Red Beach, and Akrotiri Lighthouse, have your camera ready. These are all eye-catchers worth capturing on camera.
4. Take a jet ski tour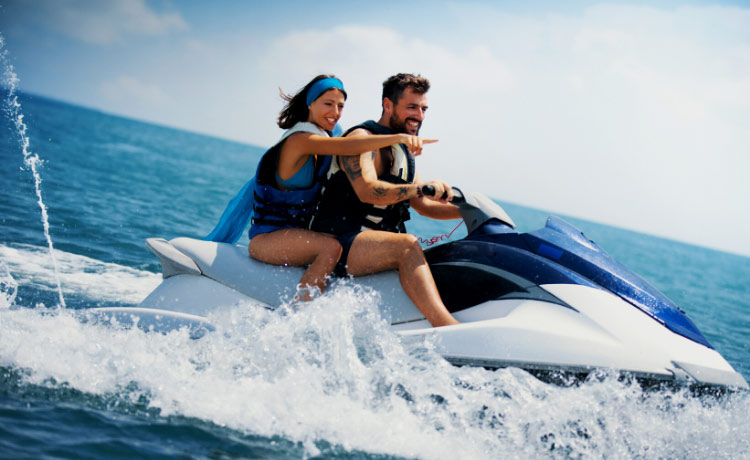 Speaking of water-filled adventures, how about jet skiing and savouring scenic excursions? There are several different itineraries to choose from. For example, you may start from Perivolos beach and plan on going past the south-western shores (i.e., White Beach and Red Beach). Or you could include a tour towards the caldera and the volcano. It is really up to you! Of course, more experienced jet skiers can choose more challenging routes! Want some more jet ski tour ideas? We can help you plan the ideal experience. Thirea Suites is not constantly a top-rated Oia hotel for no good reason!
5. Visit the harbour of Amoudi/ Amoudi Bay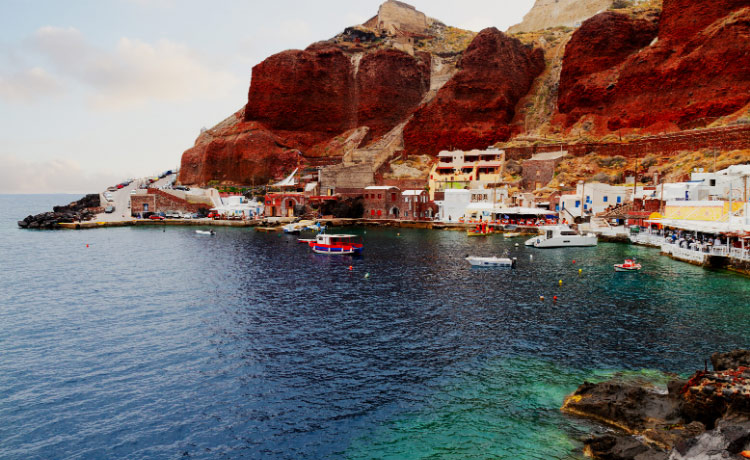 For those admiring natural beauties and charming bays lined with family-run tavernas preparing fresh seafood, a visit to Amoudi harbour is definitely among the top things to do in Santorini. The quaint bay serves as a port and is situated 200 steps below the picture-perfect village of Oia. Time to enjoy crystal clear waters, delicious food, and superb natural surroundings as luxury yachts and catamarans drop anchor in the open sea, introducing their VIP guests to Santorini's charms.
6. Take a photograph tour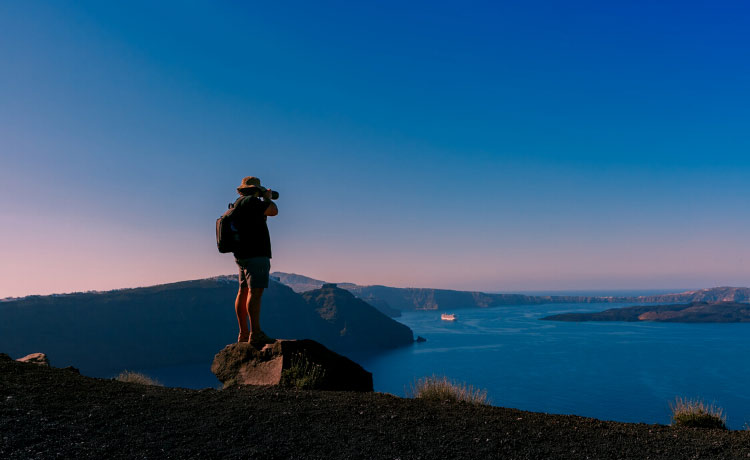 Of the many Santorini photograph tours, you can choose the one that best suits your needs. So, it could either be a walking photo tour or an experience that will take you above the ground to get perfect shots of the beautiful islands. It may also be an evening or morning photoshoot tour that varies per experience/difficulty, duration, and location. You got the point, right!
Tip: Many bridegrooms love this type of tour. They actually book a professional photographer to capture their first moments are newly-weds on the magnetic island of Santorini. Our advice? To book your Santorini honeymoon suite at Thirea Suites and immediately organise your photo-shooting session!
7. Day tour to Thirassia island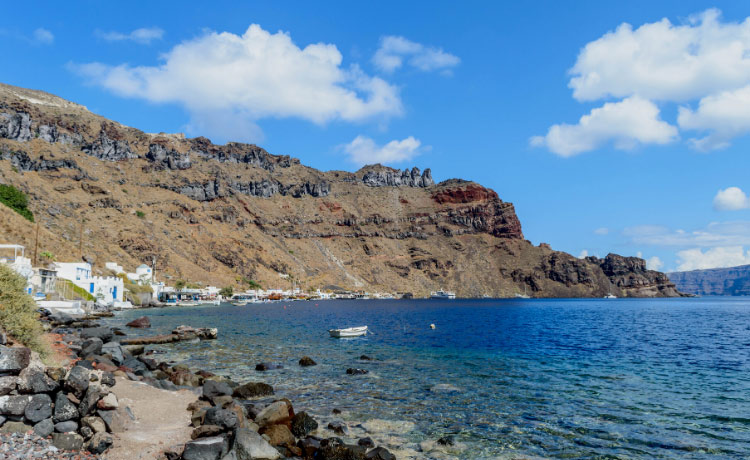 A half- or full-day tour to Thirassia by yacht or ferry is, for sure, of the top things to do in Santorini. Expect to lay eyes on dramatic panoramic views of the volcano and the famous Santorini caldera and feel as if you have stepped back in time. These tours usually feature visits to authentic Santorini villages and unspoiled terrain. If you are lucky, you may even watch a local baker making bread in a traditional wooden oven or taste mouth-watering Greek dishes.
8. Head to Pyrgos village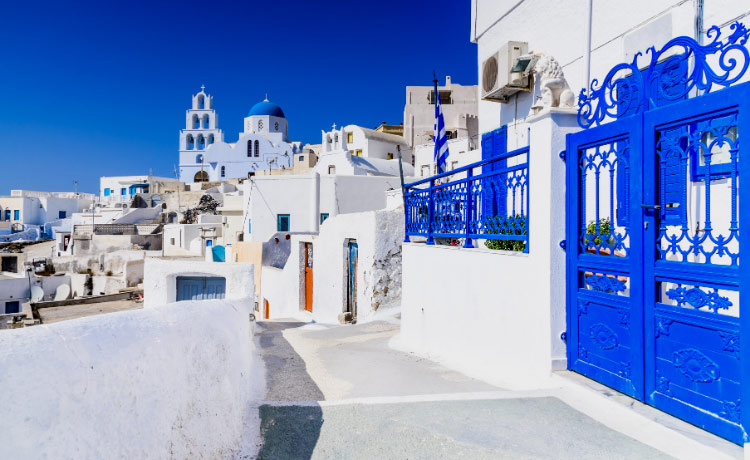 Visiting the former capital of the island is certainly worth including on a Top Things to Do in Santorini list. Pyrgos village is now a well-preserved settlement with a unique atmosphere that reminds us of medieval times.
You will find it just less than 8km south of Fira, at the foot of Mount Profitis Ilias, offering superb sunset views and a much more subdued and relaxed pace of life. It should be noted that tasting local beer and trying the delicious traditional Greek foods served at tavernas is one of the most preferred activities of honeymooners spending their cherished time on the island.
If you also wish to experience this side of Santorini, there are several Santorini honeymoon hotels to pamper your desires. However, very few ones feature utmost privacy in a touristy region such as Oia, which is world-famous for its majestic sunsets and the beautiful Santorini architecture, with Thirea Suites being miles apart from all others.
9. Megalochori village
One of the most idyllic Santorini villages, Megalochori, dates back to the 17th century. Home to wine cavanas, pirate hideaways, old traditional houses, and historical mansions featuring high walls, it is a place that exudes old-world charm. As you will notice, the building here come with designs that enable them to protect people against invading pirates (i.e., wooden door entrances and inner courtyards).
10. Visit the Akrotiri Lighthouse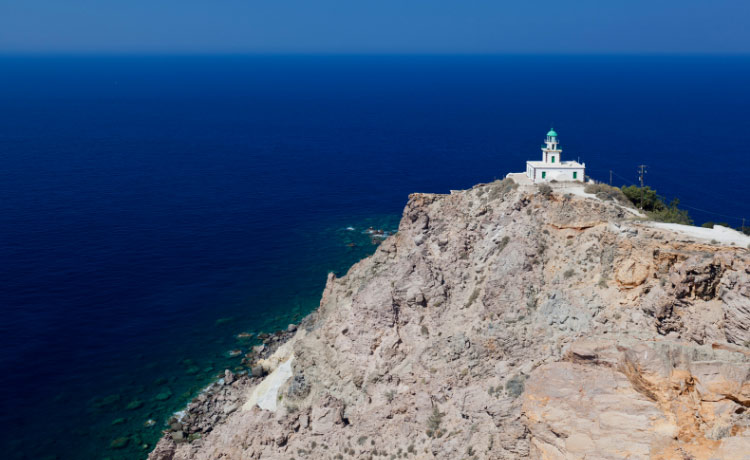 Last but definitely not least, on this Top Things to Do in Santorini guide is a visit to the infamous Lighthouse. The petrol fuel-powered 19th-century lighthouse is one of the oldest ones in Greece that stands on the southern part of the island. Constructed in a blissful setting, it stopped navigating ships during WWII and restarted its operation in 1945. Up to utterly romantic moments? Then do consider visiting it in the afternoon, just before sunset. Sheer magic!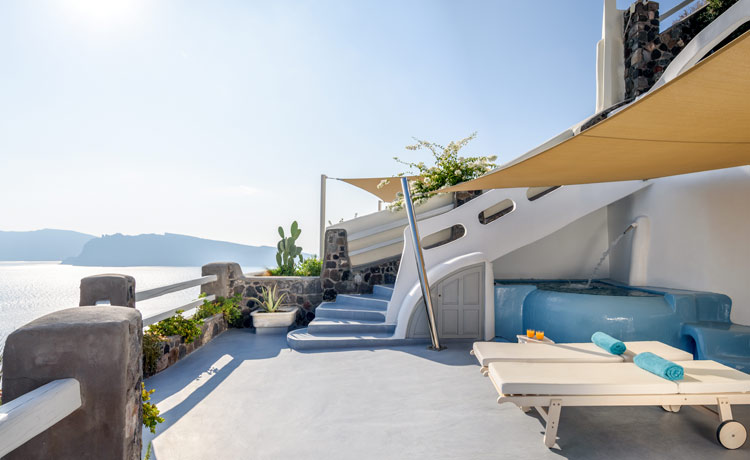 Don't miss Part I of this guide! Enjoy!