7+3 Fantastic Santorini beaches & isolated shores of sheer magnificence
May 04th, 2021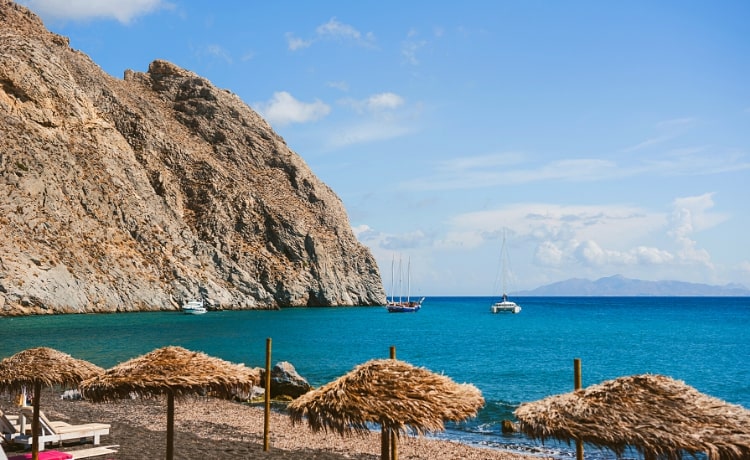 Whether you visit Santorini for its gorgeous sunsets, pristine views of the Aegean Sea, glorious Cycladic architecture, romanticism, or peculiar and unique morphology, you cannot go wrong with the Queen of the Cyclades. Of equal allure to the infamous Santorini caldera are the volcanic Santorini beaches, which are nothing like the sugary shores you are most likely used to. Here are some gorgeous ones that draw the attention of most visitors, as well as some more private and isolated options very few know of!
1. Perivolos & Perissa Beach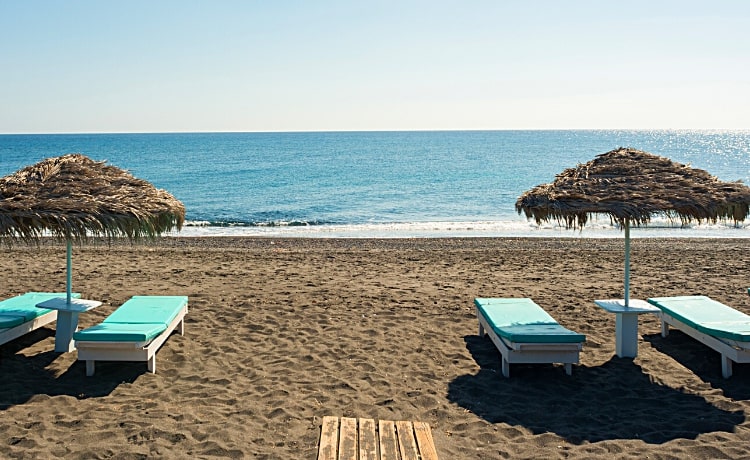 Each of these Santorini beaches is referred to as Black Beach because they both feature black pebbles – the aftermath of the several volcanic eruptions that took place on the island. They are organised shores and among the longest ones in Santorini, with lots of tourist facilities, including restaurants, tavernas, sunbeds, umbrellas, and nearby clubs.
In fact, the Santorini villages that surround these shores are notorious for their vibrant nightlife, which is one of the reasons why they are often preferred by honeymooners and young people or singles. While here, you can enjoy activities like sunbathing and snorkeling.
To reach Perissa beach, you can take the bus from Santorini port or Fira (a 10-minute drive). To get to Perivolos by car, you will need to head to Emporio village and take the turn to Perivolos. There are usually free parking places available on the streets by the shores.
2. Kamari beach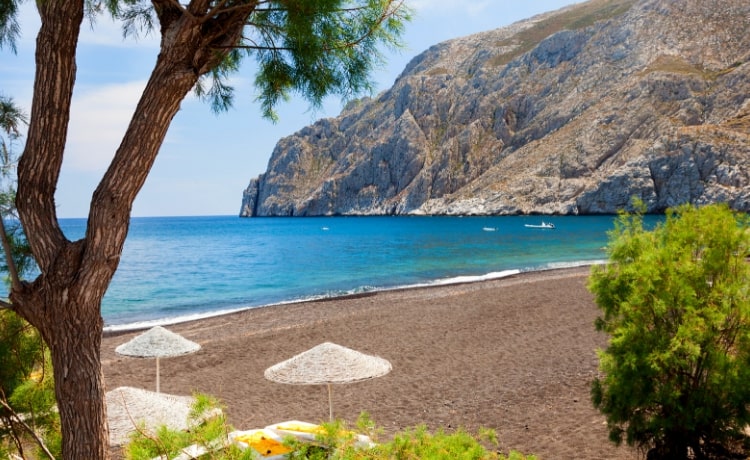 This is one of the most family-friendly Santorini beaches that combine black pebbles with sand. It is also lined with trees that provide rich shade and natural protection from the sun. Again, this is an organized beach, with a plethora of facilities, including beach bars, tavernas, sunbeds, umbrellas, and cafes, alongside several diving centres and water sports activities.
What most people appreciate about Kamari beach is the utterly romantic Santorini sunset views and the open-air cinema nearby that dazzles with its nostalgic atmosphere. That aside, though, Kamari beach is an excellent option for adventure seekers who can follow one of the many paths and hike to the top of Mesa Vouno mountain and enjoy expansive panoramas. Kamari is located around 9 km southeast of Fira and is accessible via public transport from Fira, Santorini port, and Santorini airport. You may also drive there in your own car or a private transfer.
3. Vlychada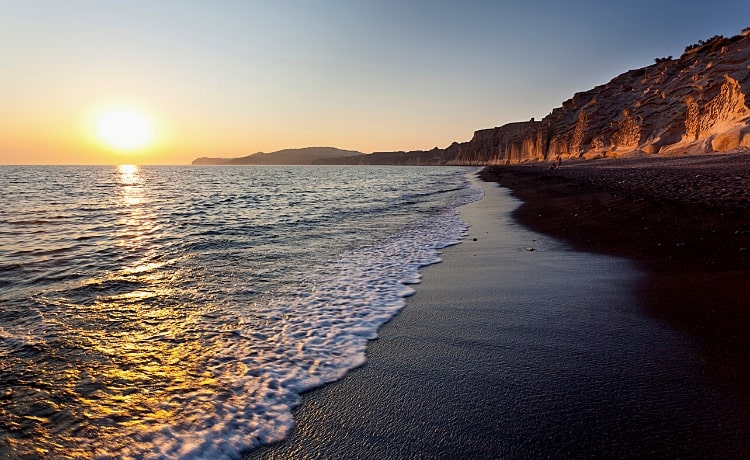 Vlychada is also known as the White Beach, but this is not due to the colour of the beach itself rather than the imposing white cliffs that comprise the backdrop of this shore. The sand is volcanic black while the waters are calm and shallow, perfect for families with kids and swimming. Although not particularly crowded, it welcomes sunbathers with multiple straw umbrellas, sunbeds, and canteens. There is also a sailing and yachting centre here, as well as taverns serving fresh seafood.
What impresses is its almost lunar landscape and the crystalline waters. Vlychada is situated in the Perivolos region (13 km from Fira), which means that you can get to the beach from Perivolos, Perissa, Agios Georgios, Fira, or Emporio by bus. During the high season, you may even hop on the tourist road train and get there (it runs from Perissa bus station).
4. Eros Beach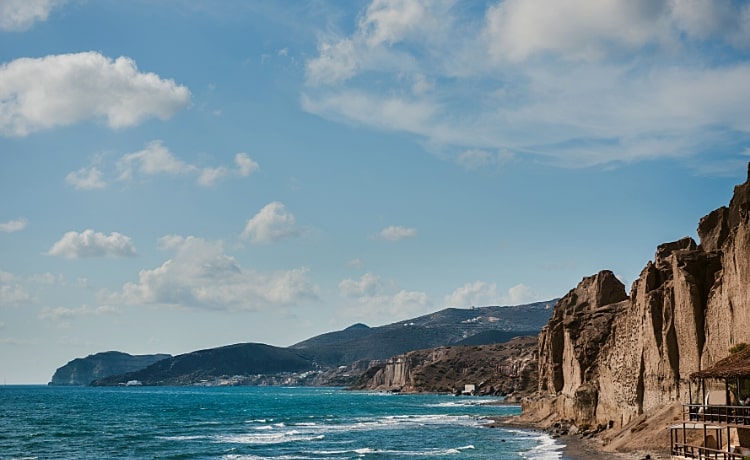 Almost adjacent to Vlychada lies Eros Beach that is precisely what its name suggests – pure love at first sight! No wonder many Santorini tours include a stop at this quiet, small beach that exudes romance. The shore is quite organised, so expect a few sunbeds, loungers, and sunbeds, a beach volley court, and a classy beach bar-restaurant with hammocks, swings, and couches for a refreshing cocktail.
Besides, its gracious white cliffs create the perfect backdrop for a wedding ceremony, which is why Eros is a much preferred bridal venue. Indeed, you can perform the ceremony on the idyllic beach and then continue celebrating this special occasion at your Thirea Santorini honeymoon suite. That way, you can pamper yourself with staggering views of the Aegean Sea and luxury amenities such as a private pool and many more.
5. Red Beach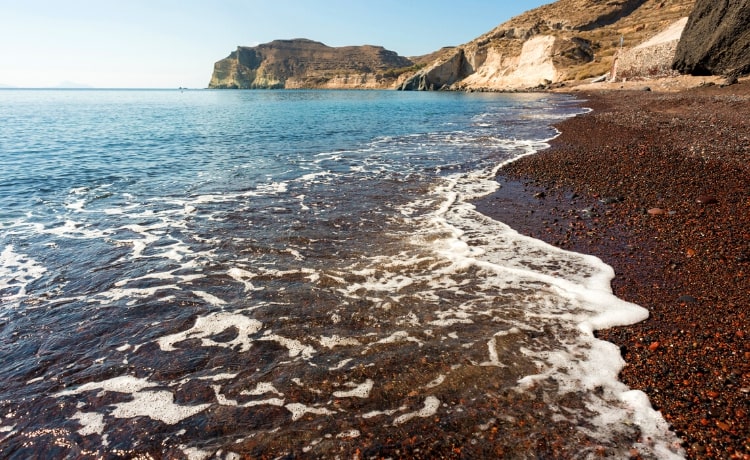 This is probably the most heart-stopping of all Santorini beaches, with crystalline waters, imposing red cliffs, and, of course, red sand. You will find it near the Akrotiri area, so it gives you the chance to admire both this gorgeous shore and the ruins of the ancient city. This is a semi-organised beach with umbrellas and white sunbeds with no water sports or other facilities. However, the rich marine life and underwater rock formation make it ideal for snorkeling.
The beach is sheltered from the wind through the steep red hills that are part of a truly captivating scenery. This also means that it can get quite hot, so come prepared. While here, you can also take the boat to the nearby White Beach, which is a must-stop for most Santorini boat tours.
You can drive to the Red Beach (there are plenty of parking spaces available) or take the bus from Fira. Note that you will need to walk a downhill path for a few minutes to access the shore. Alternatively, you could head to Akrotiri port, Perissa, or Kamari and take a boat from there.
6. Monolithos Beach
Visiting Monolithos Beach is definitely one of the top things to do in Santorini, especially if you are a fan of mysteriously shaped rock formations that combine cobalt waters with a sandy shore. The sea here is shallow, which is perfect for families with children. There is also a playground for them to enjoy themselves, as well as a beach volley court, a football pitch, and a basketball court.
Other than that, Monolithos is one of the most fully organised Santorini beaches that provides all facilities you may want, including restaurants and cafes. To get there, you can take the bus from either the airport, Fira, or the Athinios port. You may even drive or use private transfer services.
7. Ammoudi Bay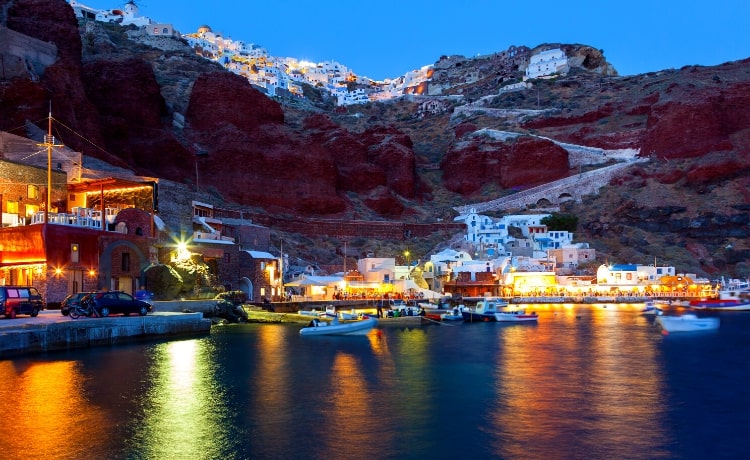 Ammoudi is a tiny settlement and the Oia port with only a few traditional houses and buildings around the bay. The beach is encircled by awe-inspiring red cliffs that contribute to the creation of magical scenery, and only a short distance from the most prestigious Oia Santorini hotels, Thirea Suites included. In fact, only 300 steps separate Ammoudi Bay from Oia. Lined with tavernas, restaurants, and cafes, the bay attracts hundreds of tourists, so it can get quite crowded. This is also amplified due to the many boat tours that stop here on their way to the famous volcano and Thirassia islet.
Some of the things you can do at Ammoudi Bay are swimming, snorkeling, cliff diving, and windsurfing. Finally, to reach the bay, you can take the bus from Fira to Oia or drive here. However, if you have chosen one of the elegant luxury accommodation options and exclusive Santorini honeymoon hotels like Thirea Suites, you can even walk to the beach.
The Most Private Beaches in Santorini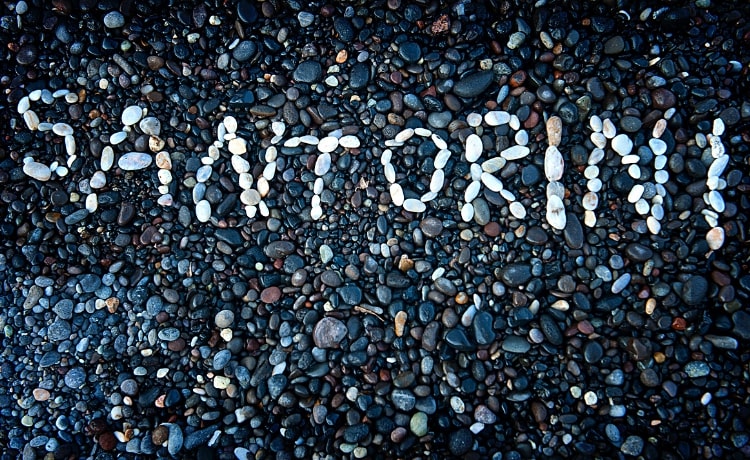 For those wanting more privacy and a shore further away from the Santorini crowds, these three Santorini beaches will please them for sure. Accessible only by boat, they offer exclusivity, pristine views, amazing seascapes, and enchanting landscapes.
1. Akra Mavro Vouno The south coast of Santorini is home to the Mavro Vouno (Black Mountain) beach lying between the Mesa Pigadia Beach and the Akrotiri Lighthouse. The boat will take you to the western side of the beach that is the remotest part of the shore and home to a small isolated cove. Expect unspoiled natural beauty, large pebbles, grey-black sand, and red cliffs surrounding the shore and providing ample shade. The water here is very warm and calm. As for the submarine caves, they invite experienced divers to explore them.
2. Agia Eirini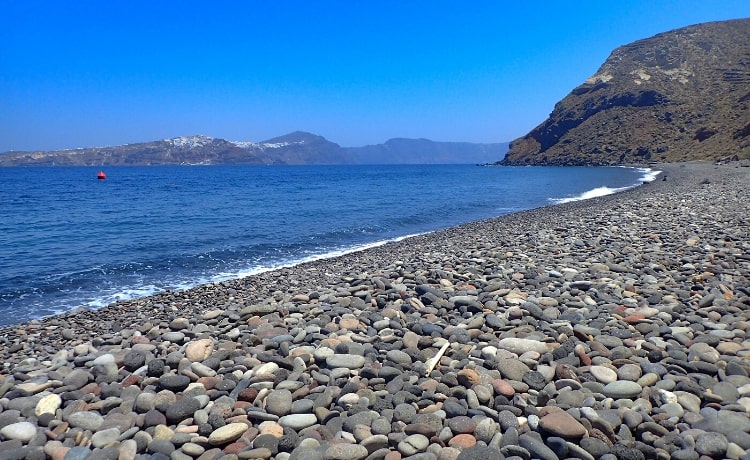 A Thirassia island beach found on the north of Santorini. Thirassia is an uninhabited island north-west of Nea Kameni, in the archipelago. You can reach it from Ammoudi Bay. When you get here, details like pumice stone, the black sand beach, and the raw beauty of the place will certainly strike you with awe. There are no tourist facilities on the beach, though, so do bring some essentials with you, including lots of sunscreen lotion as it is often quite hot at Agia Eirini beach. Many people visiting the shore also head to the Trypiti Promontory, one of the most staggering volcanic veins ever found, according to geologists.
3. Mouzakia Beach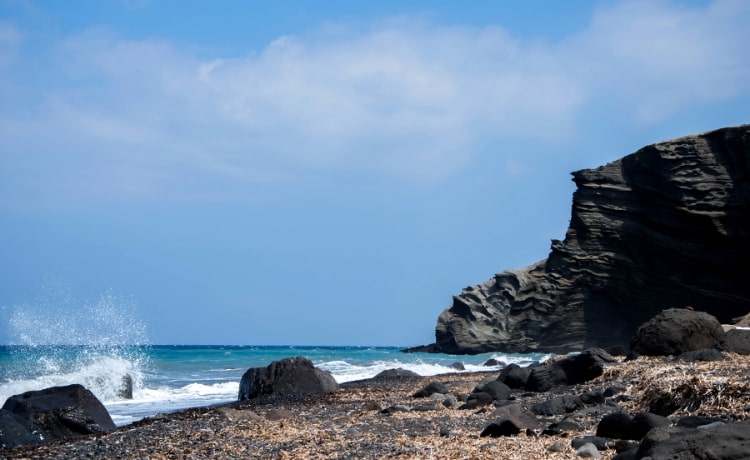 Mouzakia is a peaceful shore between Imerovigli and Oia with crystal-clear waters and a magnificent underwater cosmos. You may come here with a yacht rental and drop anchor here. That way, you can have the beach all by yourself for as long as you wish. The sea is relatively quiet here, which means that activities like kite-surfing as not favoured much. On the contrary, scuba diving and swimming are excellent options to try. Come here even if you just want to treat yourself to bewildering sunset views and fantastic seascapes!