Must-experience activities in Santorini – 20 Top things to do in Santorini (Part I)
Feb 15th, 2021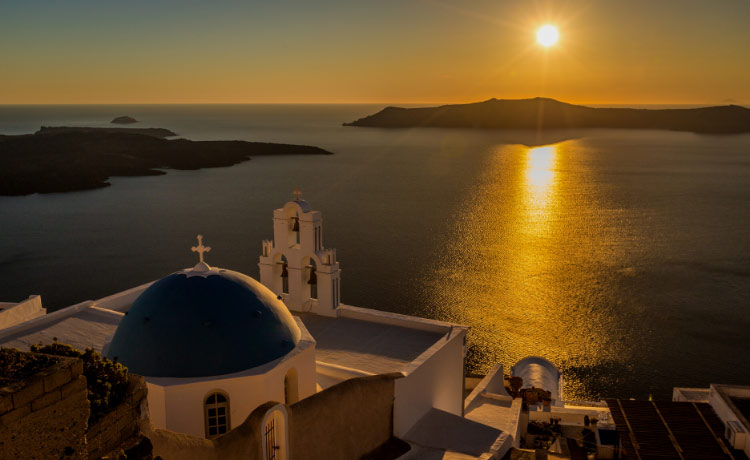 Santorini is one of the most beautiful Cycladic islands and definitely the most romantic place in the Mediterranean Sea. The thing with Santorini, though, is that visitors have a hard time deciding where to begin exploring and viewing the beauties of this scenic volcanic island. To give you an idea, we have prepared a comprehensive guide with 20 top things to do in Santorini, broken down into two parts, each featuring 10 activities. Enjoy, and feel free to add your own as you live the Santorini experience!
1. Opt for a volcano boat tour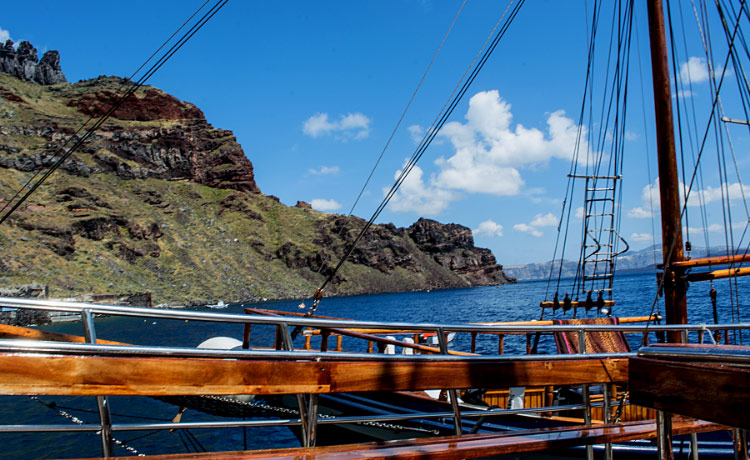 Undeniably, the hottest attraction on the island is the volcano and the caldera. The volcanic formations and the imposing cave houses, among others, attract thousands of visitors every year. One of the best ways to view the volcano is via a sailing tour. These usually start either from the old port of Santorini (aka Gialos port) or the main Santorini port (aka Athinios port). Expect to see rock-embedded cave houses, huge rocks, incredible views over the volcano's ridge, impressive geology, and jaw-dropping volcanic landscapes with an almost eerie vibe.
Besides the Santorini Caldera, though, your boat tour could also include a stop at Palea Kameni for a short and refreshing mud bath! If you don't favour the idea of diving into sulfur-rich waters, you may, alternatively, head to the nearby Agios Nikolaos beach.
Tips:
• If you are at the Caldera, a visit to the Santorini Hot Springs should not be missed as it is, indeed, one of the top things to do in Santorini. The metals coming from the volcano give the springs exceptional healing and therapeutic properties. Consider a swim there, especially if you have physical pains, such as arthritis or rheumatism.

• Of all prestigious Santorini Caldera View Hotels, Thirea Suites offers guests a unique chance to view the astounding caldera and its magnetic surroundings without moving a muscle. Simply relax with a cocktail at hand and enjoy pristine caldera and sea views from your balcony!



2. Watch the most romantic sunset views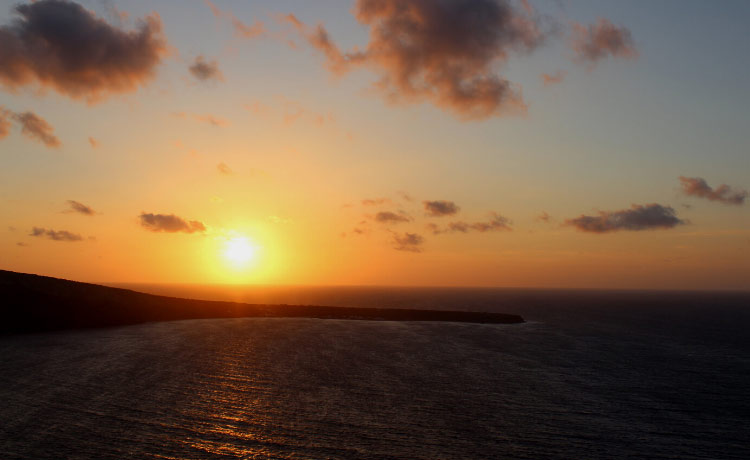 The idyllic Santorini sunset is definitely among the first things most visitors choose to experience when stepping foot on the island. Can you blame them? The views of the descending sun are, indeed, heart-stopping. Most people prefer the famous Blue-domed churches at the island capital as their preferred sunset spot. However, we suggest clarifying whether you don't mind being with hundreds of other tourists who also want to capture the perfect sunset view with their cameras or if you fancy someplace less touristy.
For those wishing for more privacy and peacefulness during the hours when the sun showers the whitewashed houses with its last golden and orange shades, then head to Imerovigli. Climb to the castle (see more details below) and get spectacular panoramas of the sun sinking behind the horizon. That being said, though, the most breath-taking sunset views are seen from Oia, Santorini. You could visit both spots and see which one pleases you the most!
Luckily, your preferred Oia hotel in Santorini, Thirea Suites, gives you the chance to admire soul-pleasing sunset views from the comfort of your private balcony while enjoying a relaxing bath in your Jacuzzi, away from mingling crowds and prying eyes!
3. Visit Skaros, Imerovigli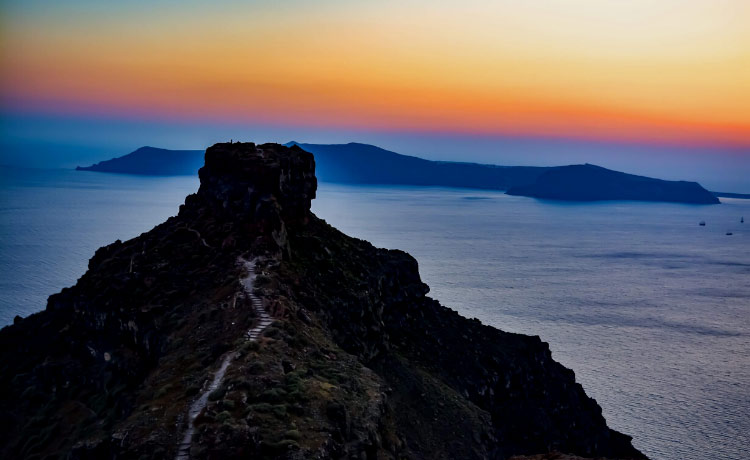 An activity that is included in almost every traveller's top things to do in Santorini list! Once a prominent fortress, stone-built Skaros castle used to serve as a defensive means against pirate invasions during the late Middle Ages. Over the years, it has become a symbol of Santorini, situated in the Imerovigli region. Skaros also offered access to the rest of the Imerovigli settlement via a mobile wooden bridge. Only a few remains are left from the labyrinth-like fortress that used to protect more than 200 homes, monasteries, and churches back in the day. Today, Skaros provides panoramic views of the coastline and the impressive caldera.
4. Visit Oia Castle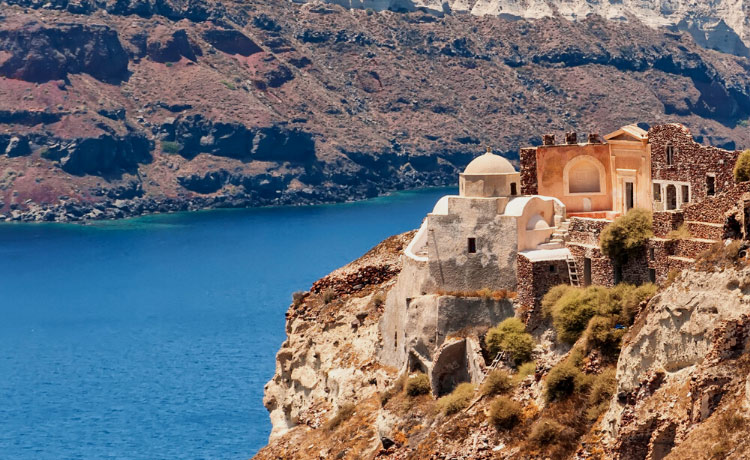 If you like visiting surviving watchtowers and legendary ruins of Venetian castles, then the Castle of Agios Nikolaos at Oia should be on your Top Things to do in Santorini list. The captivating 15th-century destination on the northwestern coast is a superb spot for sunset viewing (also sublime Caldera panoramas) that got its name from the enchanting rock-carved church of Agios Nikolaos. At a time when pirate invasions were regular, the Oia castle served as an observation point while also providing fortified shelter to the residences of the Venetian rulers inside it. After the 1956 earthquake, only a part of the watchtower stands still to date to remind us of its glorious past.
5. Visit Akrotiri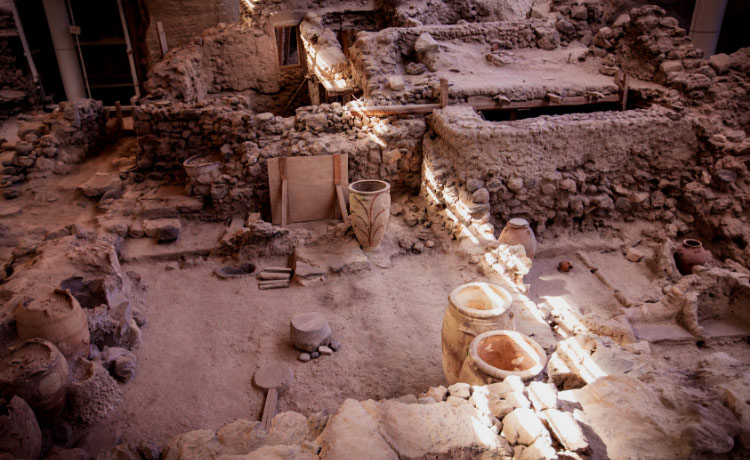 Akrotiri Santorini is considered an important site not only in Santorini but the entire Aegean. The settlement here was a leading Minoan urban center and Aegean Sea port in the Bronze Age. Unfortunately, a volcanic eruption in the 17th century BC covered it in volcanic ash. For that reason, it is also referred to as the Greek Pompei. Today, you can walk among the remains and see two or three-storey buildings of centuries ago thanks to suspended walkways and a bioclimatic roof.
6. Swim in the Red Beach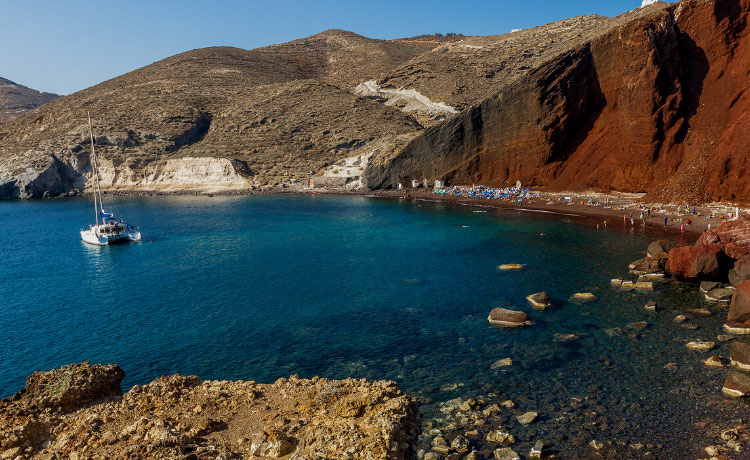 No Top Things to do in Santorini list is complete without sunbathing on the shores of this beautiful Greek island. The Red Beach is one of the most scenic beaches on Santorini, situated close to Akrotiri village. As expected, red is the dominant colour here. Red Beach may steal your heart with the captivating scenery of unique wild beauty as it is enclosed by steep red hills. The semi-organised pebbled shore features crystalline cobalt waters that house a rich marine life. A great spot for snorkeling, scuba diving, and other water sports, indeed!
7. Scuba diving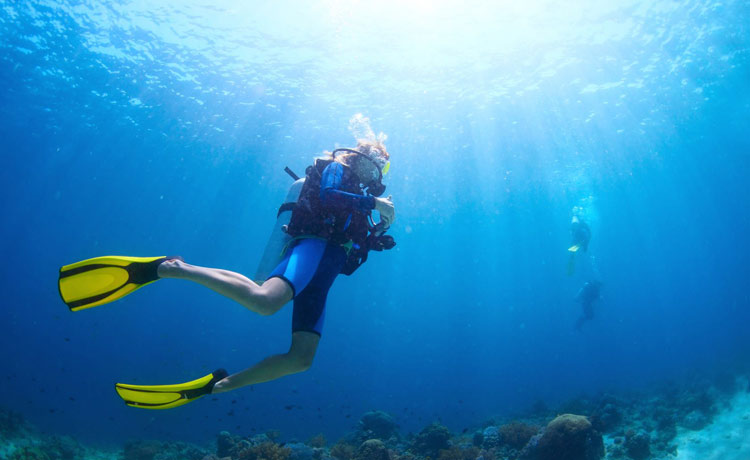 Scuba diving in Santorini is a must-do if you love water sports. The underwater cosmos is more than inviting, especially considering the island's volcanic geographical background. In the past few years, many diving centers opened in the most touristy and popular places, such as Perivolos, Kamari, and Perissa, where you can learn how to dive, regardless of your age or experience. Some of the most exciting diving sites on the island are Faros Reef, the caldera lagoon, the Perissa Rock, the Caves Lagoon, and the volcano (Nea Kameni) that is home to a shipwreck.
8. Horse riding tours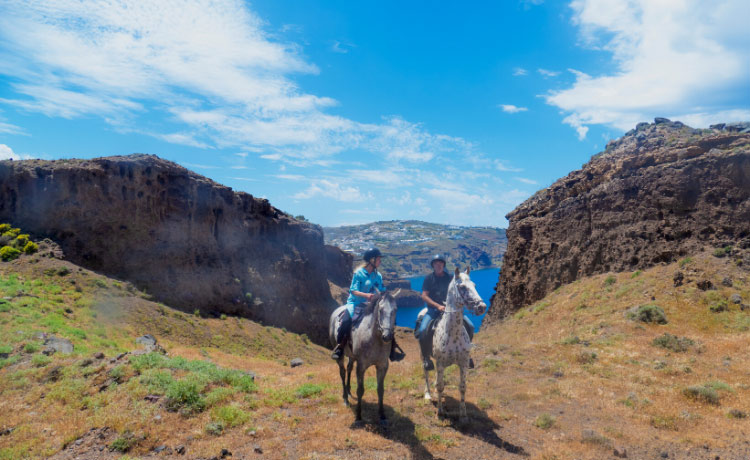 Irrespective of whether you are a horse enthusiast or equestrian, a Santorini horse riding adventure will blow air under your wings. There are several tours to choose from and explore the sense of freedom as you ride along the coast and the sea breeze fills your heart with joy!
Most horse riding tours include passes from Megalochori village that dazzles with its whitewashed houses and the fortress-like walls, the vineyards, and the churches. Or you may choose an Eros Beach tour, which is filled with valleys and bluffs, a Black Sandy Beach tour, or even a Caldera tour.
Of course, you could even ask the friendly receptionist at your Oia hotel, Thirea Suites, to help you organise your dream tour!
9. Santorini Wine Tour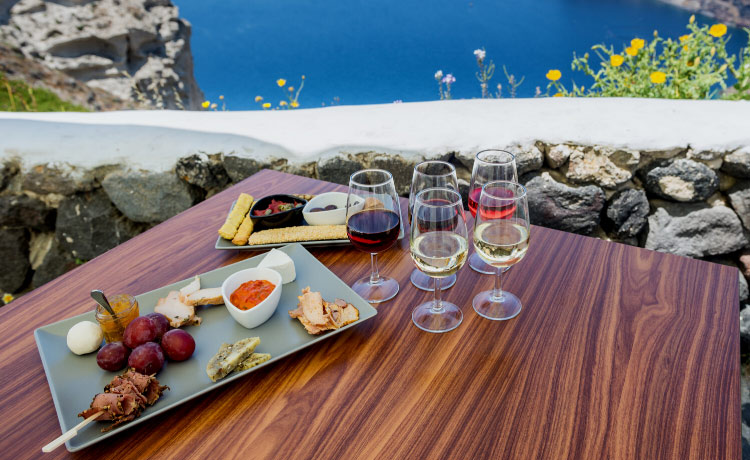 Speaking of tours, one can't help but include wine-tasting endeavours on their Top Things to do in Santorini schedule. After all, the island is notorious for its wines, especially the dry whites. Depending on which tour you choose, you may be headed to famous winemakers or vineyards and sample local wines and delicious mezedes!
Tip: Wine-tasting is a favourite experience most newly-weds ask for. Based on our guests' preferences, the overwhelming majority of honeymooners plan a wine tour right after booking their preferred Thirea Suites Santorini honeymoon suite.
10. Hike from Fira to Oia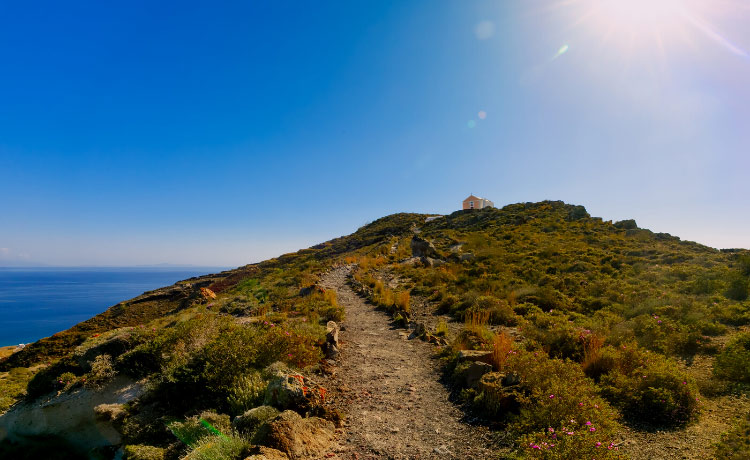 Love hiking? Then do consider taking the path that connects Fira with Oia village. You won't regret it! As you hike along the caldera rim, you will be able to explore the villages of Fira, Firostefani, Imerovigli, and Oia. At the same time, you will be treated with staggering views of the surrounding islands. In total, it is about a 10km distance to be covered.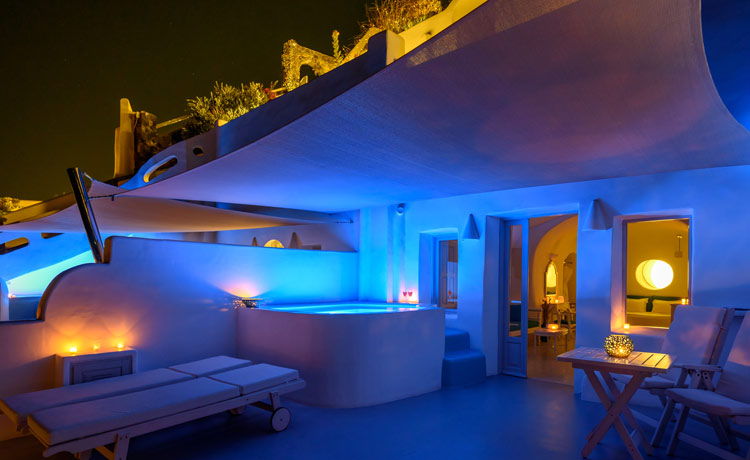 **Don't miss Part II of this guide for more suggestions and ideas to make the most out of your Santorini visit.
Enjoy!**