3 Fantastic Santorini Wine Tours – Small Group, Private & Sunset Views
Jun 07th, 2021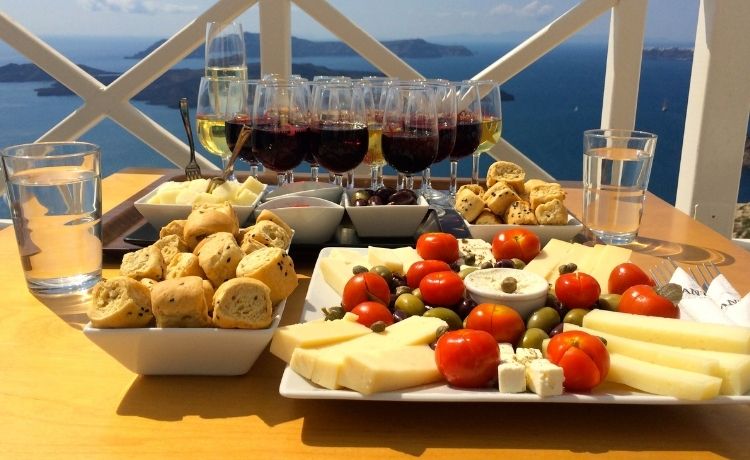 Besides extraordinary landscapes, impeccable natural beauties, volcanic allures, and scenic sunsets, Santorini is also renowned for its award-winning wines. Some people claim that the volcanic land has been enriched with precious minerals, giving unique flavours to the local vineyards that provide the raw ingredients for Assyrtiko, Vinsanto, and Nyceti Santorini wines. Others owe the special tastes of the Santorini wines to the Aegean Sea, the warm sun, the humidity, and the Mediterranean breeze.
Perhaps the truth lies somewhere along these lines. Regardless, nobody can deny that Santorini wines are incredibly delicious and full of addictive aromas offering palate-pleasing experiences. It, therefore, comes as no surprise that visitors to the beautiful Cyclades island opt for one of the many Santorini wine tours nine times out of ten.
Indeed, visiting a local winery and/or tasting the local wine is one of the top things to do in Santorini. Below, you will find information about the available options and what to expect from a wine tour in the Cyclades Queen.
Small-group wine sampling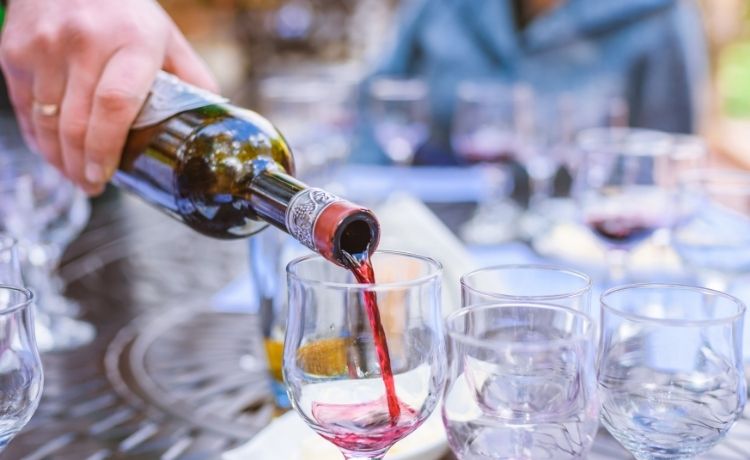 These are usually Santorini wine tours lasting several hours (usually from 3 to 10) that introduce you to many different wines. At the same time, you learn about the rich viticultural history of Santorini (dating back to ancient times) and take interesting cellar tours.
The overwhelming majority of Santorini tours provide travel by comfy air-conditioned minivans and are available to a handful of people at a time. This makes the entire wine tasting adventure even more exciting and pleasurable. The number of wineries you will visit depends on the tour you have selected, while you can sample from a couple of different wine varieties and up to 10 or 15 options.
Tip: As you drive between wineries, take a moment to admire and appreciate the picturesque Santorini countryside dotted by rolling hills, quaint little villages with whitewashed houses, and small blue-domed chapels. This is a view you can enjoy from very few luxury Oia Santorini hotels, Thirea Suites included, of course. Therefore, it is a rare find, so don't let it slip through your hands but letting it go past unnoticed!
Santorini wine tasting with supreme sunset views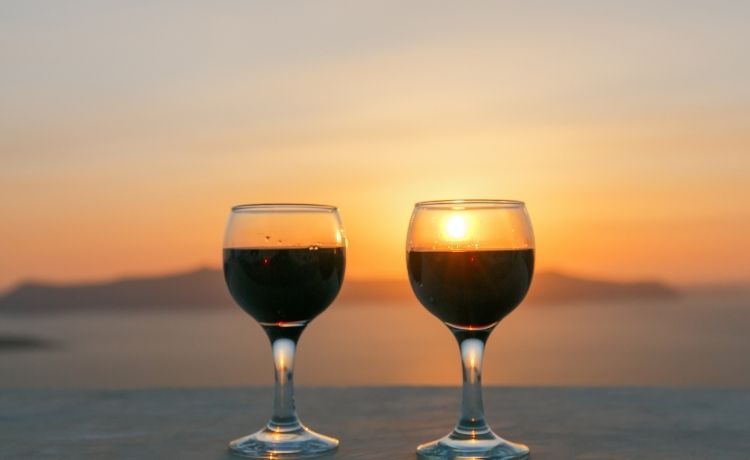 This is one of the most sought-after Santorini wine tours that enable you to experience the legendary Santorini sunset with a glass of the finest Vinsanto at hand at a winery tucked upon the Caldera cliffs. And, don't be surprised by the panoramic views offered by some of the most famous local wineries. Some of these vistas stretch all over to the volcanic islands of Palea Kameni and Nea Kameni. Truly magical! Besides all other adventures included in Santorini wine tours, you will be provided with details about what centuries-old techniques Santorini winemakers use to make the wine you are sampling. Plus, you may get a visit to a one-of-a-kind wine museum located in Mesa Gonia that will allow you to get a closer look at what the life of a Santorini winemaker was like.
Expect a 300-metre labyrinth-like cave-museum around 8 metres below ground that took the Koutsogiannopoulos family two decades to complete. Whether here for a Santorini honeymoon or not, this 1861 winery and museum is a must-visit as it combines winemaking tradition with impressive artwork by foreign and Greek artists.
It should be noted that many Santorini wine tours include stops to charming spots offering breath-taking views of the lovely villages of Imerovigli, Firostefani, and Pyrgos. Each enchanting with its own special appeal, you get the chance to sample great wine, visit hilltop monasteries, walk to Venetian castles, and even dive in the cobalt waters of beaches like Perissa and Perivolos.
Note: For hypnotising sunset views, ensure you visit a winery near Oia Santorini. You will be graciously compensated!
Private wine touring endeavours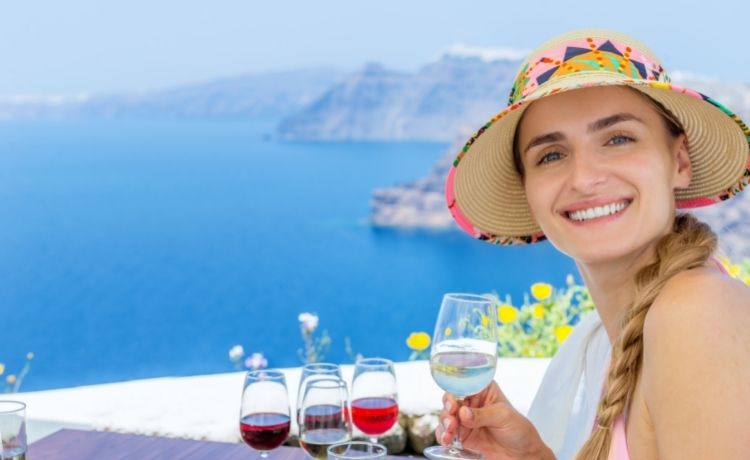 If you prefer to live a wine-sampling experience with your partner, family, or loved ones, you can seek private Santorini wine tours. You may even be allowed to suggest the itinerary if you add more than just wine sampling. Apart from tasting signature wines at each winery you visit, you could even sample local snacks and homemade mezedes that are usually offered at world-class wineries. Private cellar tours and wine-tasting tutorials of Greek wines may also be available, as well as an expert wine guide and lunch featuring traditional Greek cuisine.
Speaking of privacy and exclusiveness, your Thirea Suites Santorini honeymoon suite or deluxe room is the perfect sanctuary after such a busy and exciting day. Close your eyes and let yourself sink in the experience you have just had. What a heart-filling way to close this chapter!